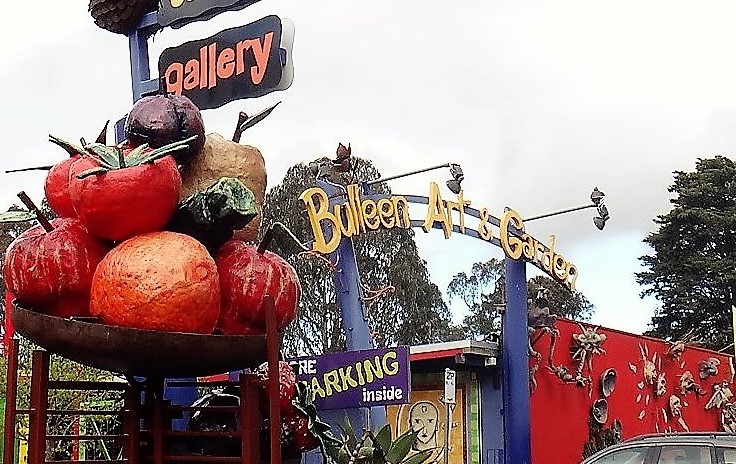 Front of BAAG with Still Life I sculpture by Lachlan Plain, signage by Justin Purser, mural by Meredith Plain
BAAG is privileged to operate in one of the most culturally significant regions for art in Melbourne, often referred to as the Valley of the Arts. The two most important Australian art movements, the Heidelberg School and the Angry Penguins, originated in this area. Heide Museum of Modern Art, which is just across the park from BAAG is an iconic art venue.
BAAG has placed emphasis on the arts and creativity in response to this location, and also the passion of the proprietors and some staff for the arts. This has enabled us to develop a unique identity, atmosphere and experience at BAAG.
One way of furthering those aims is shown by incorporating an increasing array of artworks in the structural fabric of BAAG and adopting a creative approach everything that we do.
The following are some examples of embedded artworks throughout BAAG, with links to descriptions for many of them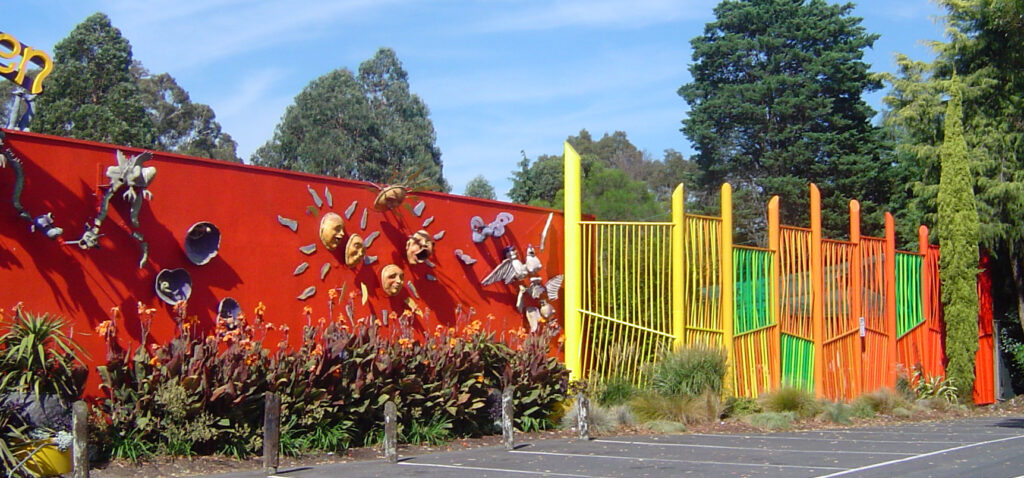 Part of the front fence at Bulleen Art & Garden – ceramic mural and colourful sculptural fence.
At the front of Bulleen Art & Garden
The front of BAAG is a colourful celebration of local artists that stretches for over 100 metres. It started with an overall concept and fence design by Akira Takizawa in 1995 and has been continually evolving since then. More than 8 local artists have been involved in creating this work. It makes a statement about who we are as well as contributing to the identity of our precinct.
The following shows the evolution of the front and the artists involved:
Overall concept: Akira Takizawa
Monumental Fence
recycled metal
Akira Takizawa (1995)
Ceramic Mural
3 x 5m
Meredith Plain (1995)
Yellow Metal Mural
Recycled metal & paint
Jodie Nunn & Lachlan Plain (2003)
Colour innovations for front fence,
Jodie Nunn & Lachlan Plain (2006)
BAAG entrance sign
Justin Purser (2006)
Sculpture with  signage
Justin Purser (2006)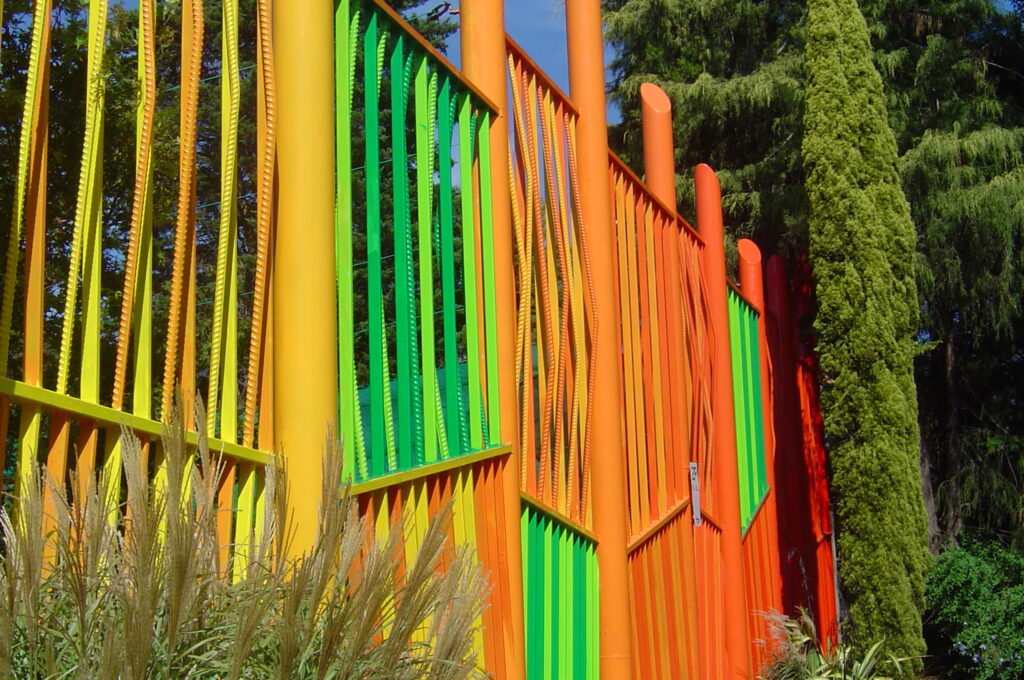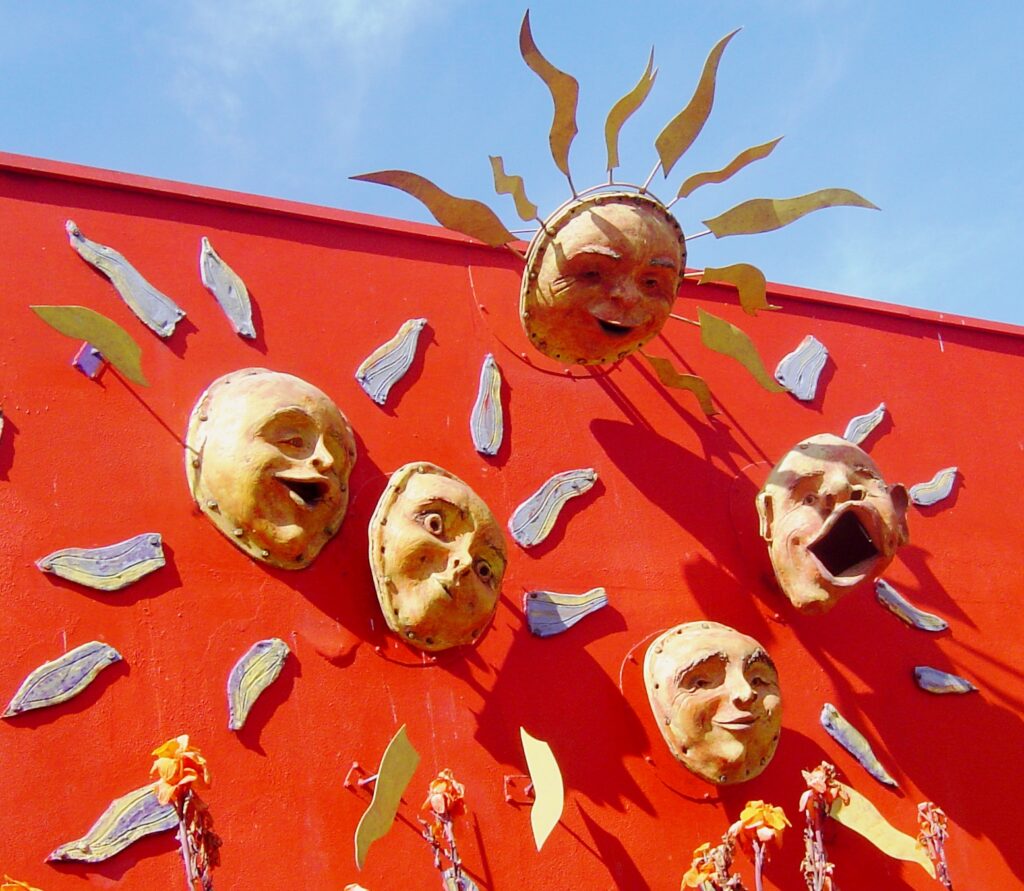 A coloured concrete path, following a vine with a pebble mosaiced stem and leaves studded with hand crafted ceramic vegetables, leading to the entrance to Bulleen Art & Garden. This walkway is lined with edible plants.
Overall concept – Joy Froebel
Coloured path with pebble mosaics – Crafted Landscapes
Ceramic vegetables – Meredith Plain
The four gardens were  designed and planted by 4 senior nursery staff.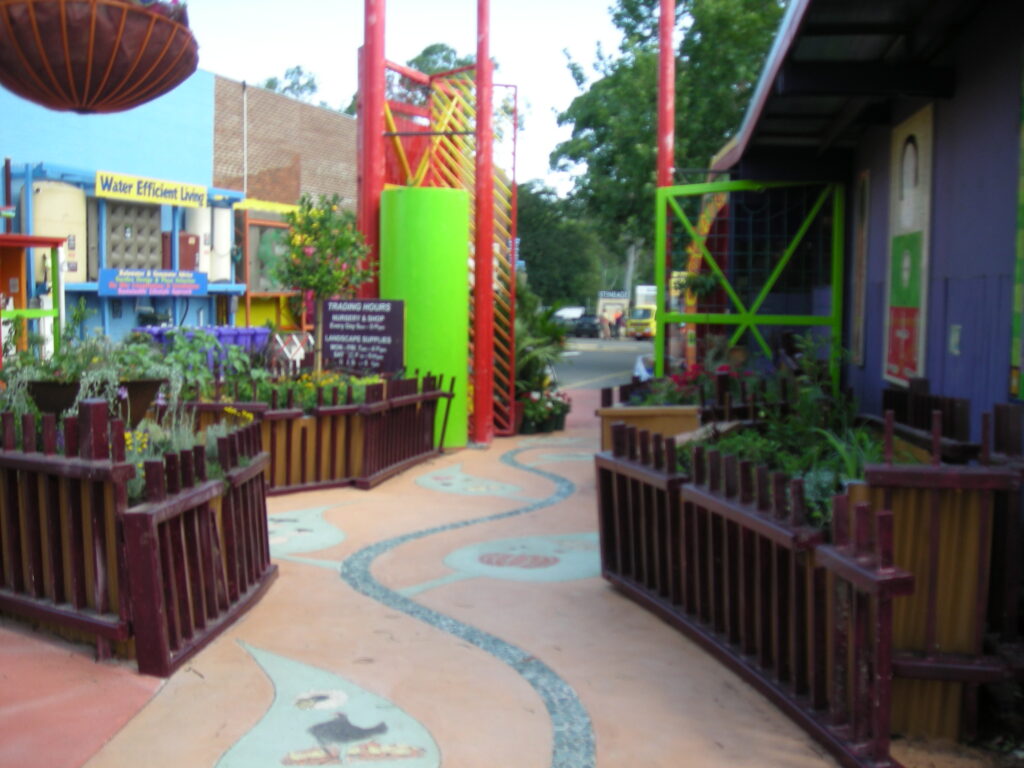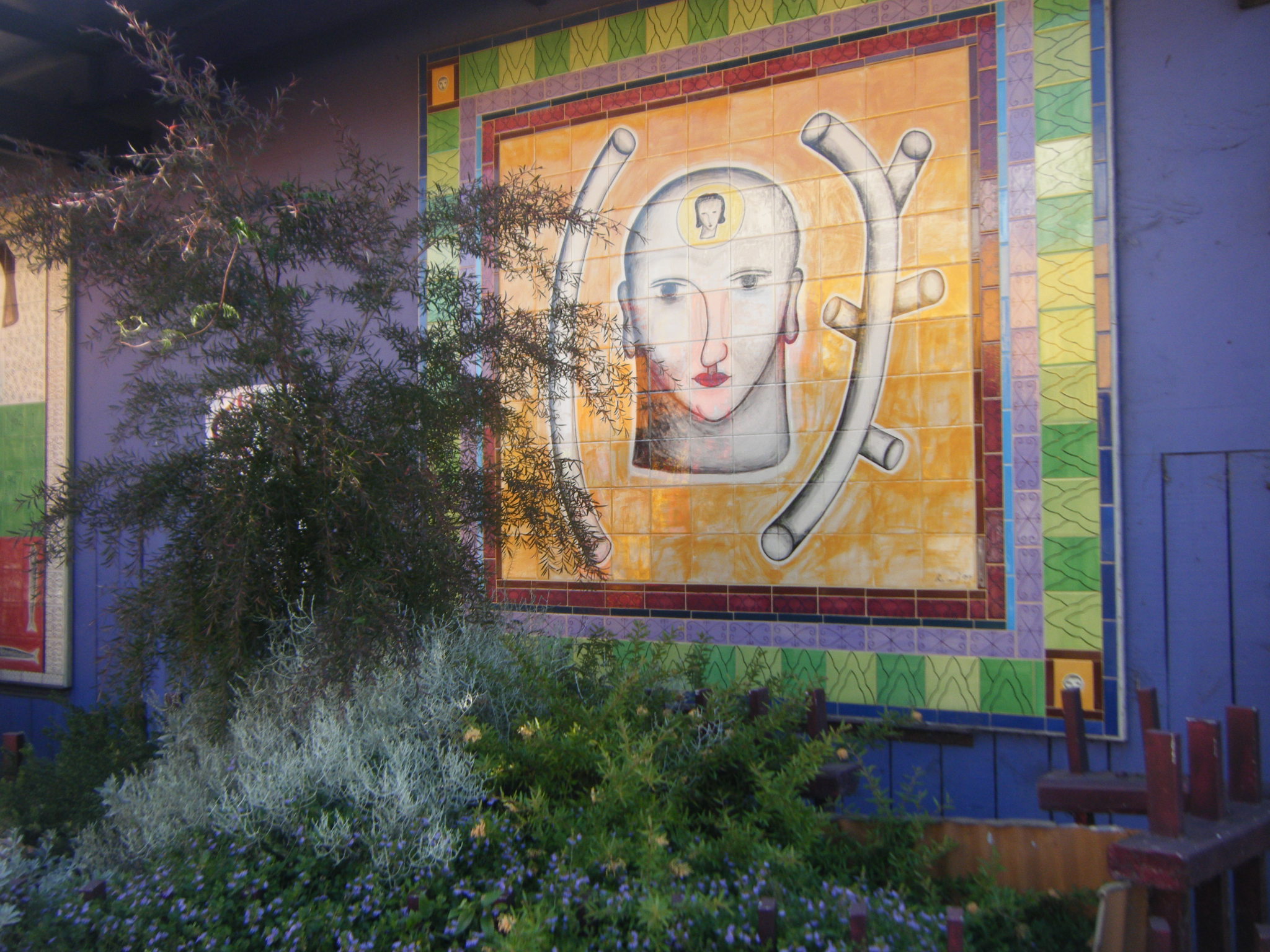 Simon Woke
freestanding mural
Lachlan Plain. Dec (2009)
Chook cylinders
Meredith Plain (2016)
Bollards.
Recycled metal, laser cut designs
Tim Read (2018)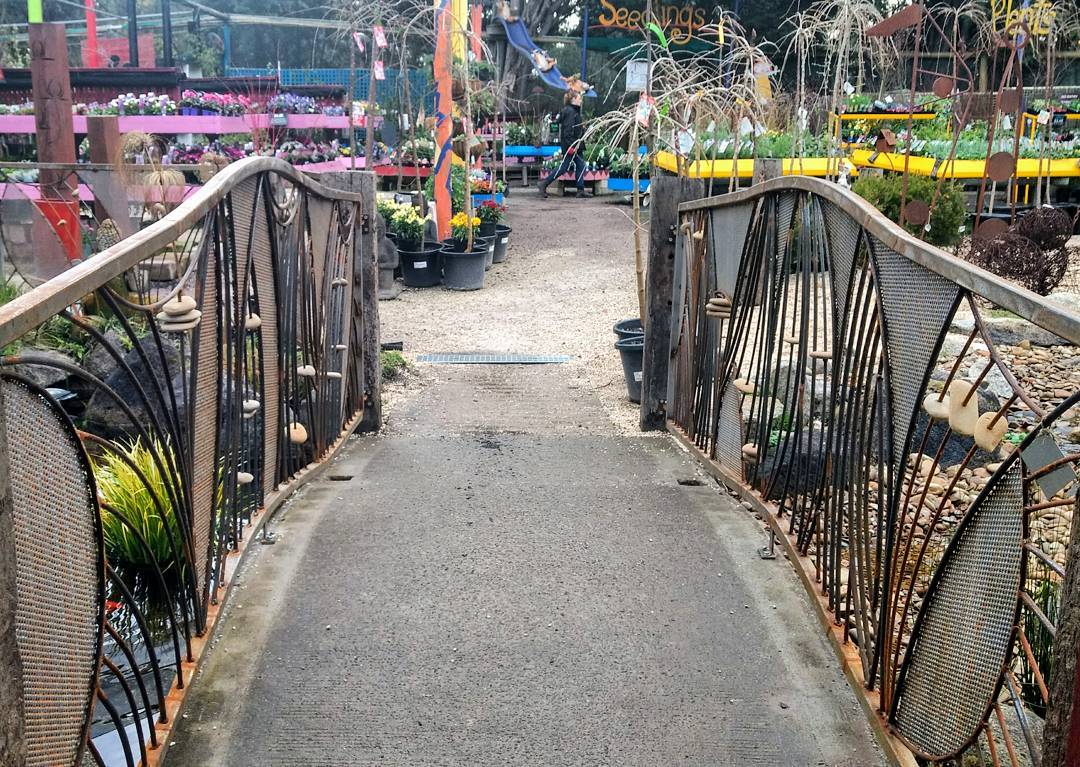 Inside Bulleen Art & Garden
Artworks are dotted throughout throughout BAAG. If there is a new project we will usually commission an artist to add an individual mark. They are there to entertain  out visitors, but also get them thinking – about sustainability and the environment, as well as gardening.
Bunjil
metal sculpture
Joel Medley (2013)
Pink Mural
Lachlan Plain (2011)
Flower Mural                                                          Paul Kalemba (2009)
Hand cut metal
signs around nursery
Justin Purser (2004 – 2008)