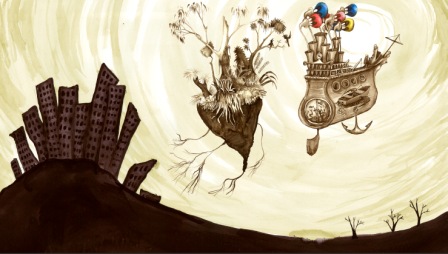 The ambitious 11 x 5m mural by Lachlan Plain tells the story of wily adventurer, Pedro Piscator, whose ship is powered by melody, charting a sonata through the sky and towing a floating island upon which he's collected the most singular of species, rescued from a sullied Earth.
This mural has bene based on the idea of an ark, which has been called into service to save these singular specimens.
This mural has been painted by Eltham artist , puppeteer & theatre director. For more information about Lachlan, click here, or go to www.lachlanplain.com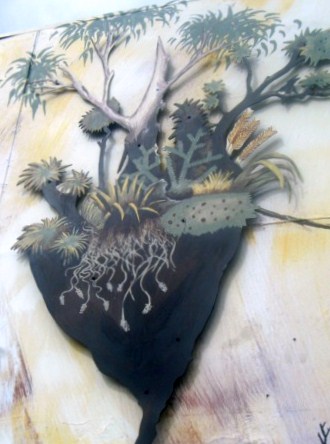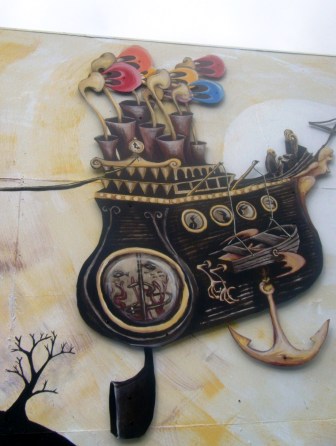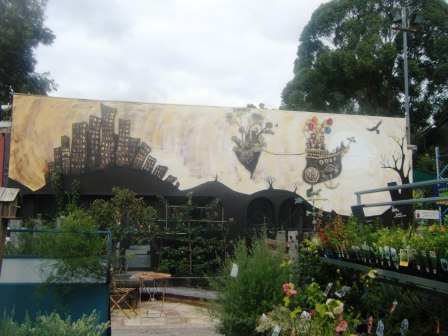 Exhibition
A similar brief was given to the artists involved in the exhibition – Sanctum Theatre's Conservatory of Singular Specimens in Bulleen Art & Garden's Bolin Bolin Gallery . Click here for information
Gaia Night
This mural was launched at an amazing celebration of art & environment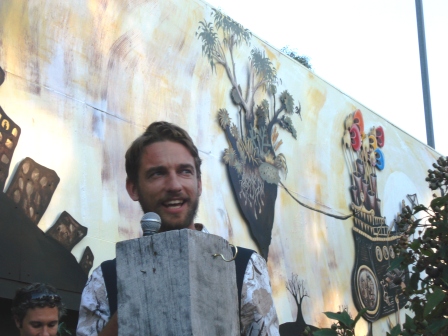 On Thursday 23rd of February 2012, as part of Melbourne's Sustainable Living Festival, Bulleen Art & Garden and more than 100 guestscelebrated the Earth's life support system, 'Gaia', in a night of discussion, performance, song and art whilst raising funds for Sustainable Gardening Australia.
This was an evening to launch a large new mural and open an exhibition, but included much much more – some great speakers – Jane Edmanson, Jason Smith (CEO Heide), Mary Trigger (CEO SGA), Lachlan Plain (mural artist, Director Sanctum Theatre), music, puppets, theatre, gourmet nibbles, walks and much good cheer!
It was a perfect evening – Gaia was certainly smiling apon us!
Click here for more information about Gaia Night
The Wall
February 2012, before installation. The 2 major sections of the mural were painted off site in December 2011. Installation & completion of painting was in Feb 2012.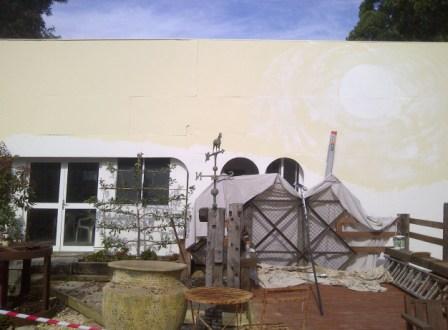 History
2002
This wall has a long history as a mural at Bulleen Art & Garden. In the summer of 2002/2003, two of our young local artists, Lachlan Plain and Jodie Nunn, started a project of creating a large mural in the centre of Bulleen Art & Garden, which involved a stylised colourful Australian landscape, dotted with cockatoos and trees.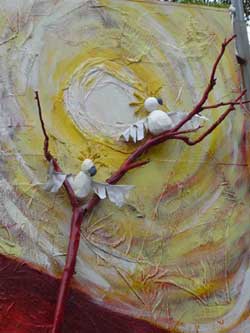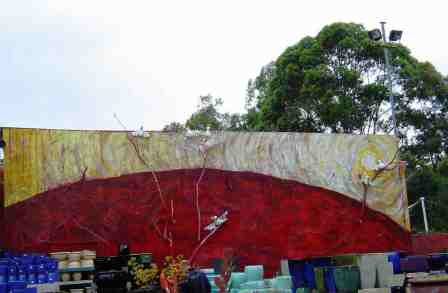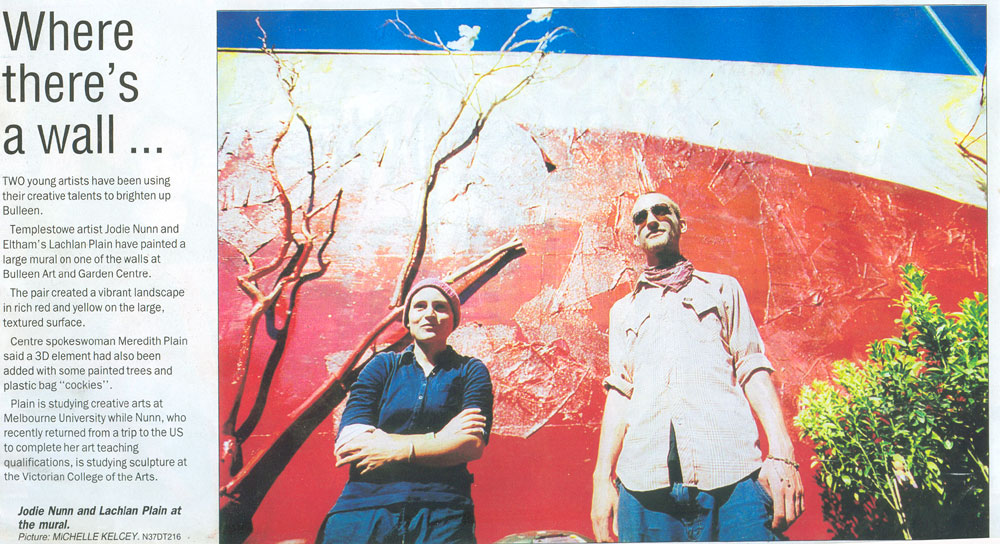 2006
When Lachlan & Jodie said they thought it was about time for some maintenance to the Outback Mural in the centre of the Bulleen Art & Garden nursery, we expected fresh paint, but in early 2006 they have given it a complete overhaul.