We are currently calling for exhibition proposals for 2023!!!
See below for details. Email gallery@baag.com.au
Exhibiting and selling art/craft at Bulleen Art & Garden
We are always looking out for new artists and want to display work which is original and individual, and is a viable alternative option for our customers, rather than mass produced items. Works could be suitable for display in the garden or have some connection to the garden. Work for sale should be of professional quality and suitable for its purpose, and should have artistic or design merit.
Sales in the Sculpture Garden, garden Gallery, nursery or shop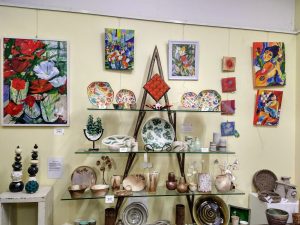 We make an effort to include local art and craft throughout the centre as well as exhibitions in our gallery space – in the  Garden Gallery with ongoing displays of garden art; in the shop area near the gallery; in outdoor sculpture garden , and as features in displays in the nursery areas, such as plant bench endcaps.
For more information, Please email gallery@baag.com.au or mail to Meredith Plain, Bulleen Art & Garden, 6 Manningham Rd W, Bulleen.
Or phone Joe Raneri or Meredith 8850 3030 on weekdays.
Commission sales: approx one third selling price.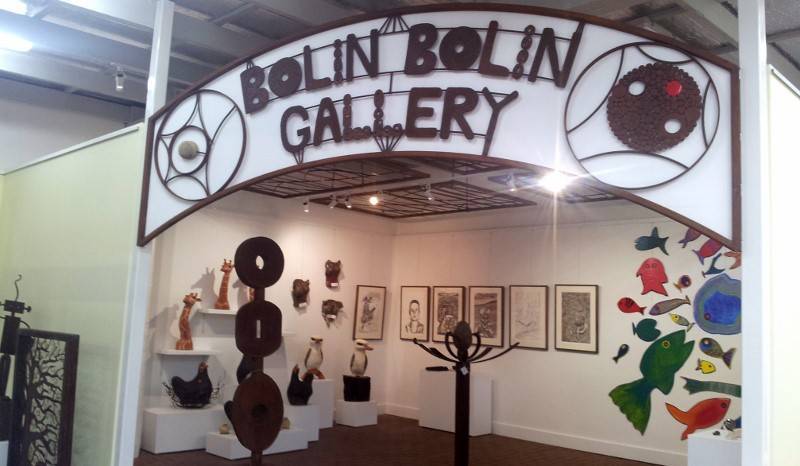 Exhibitions
A gallery as part of a garden centre is a great way to bring art, and individually crafted products to a wide range of people who would not normally visit an art gallery, as well as giving local artists an outlet for their products. We have held regular exhibitions since 1995 when we opened our first art gallery. Then in August 2015 we opened a new gallery.
The Bolin Bolin Gallery is in the centre of the Bulleen Art & Garden shop, designated by a sculptural sign by Nicola Hoyle. The area is 6.8m X 4.3m.
It has:
Gallery hanging system
we have quite a lot of  plinths
several wall shelves
Feature ceiling panels by Nicola Hoyle
To reduce the upfront risks for artists, we do not have charges for exhibitions, but take a commission (approx one third selling price)
You may want to:
Have a solo exhibition.
Have an exhibition with others you know.
Take part in a group exhibition
Exhibition proposals
Please send exhibition proposals, or information about art/craft you would like to sell at Bulleen Art & Garden to gallery@baag.com.au
We have filled most of the exhibition opportunities to the end of 2022
For Exhibition proposals we need to know…
Contact Details
Who is exhibiting

Do you want a solo exhibition, with colleagues, or a group. Or if you are not likely to have enough work to fill the space we could possibly exhibit your work with another artist(s).
Description of work you are planning to exhibit
Please include:
Theme and/or title
Media, range of items. Scale
Do you have images of the proposed work or something similar.
Approximate price range
IF you have not previously sold work with us and we don't know you & your work, please include either a link to a web site or page, or a very short CV & image(s) of your work, if/where you have exhibited or sold work previously
PLEASE don't send large images – very difficult to open and not necessary
Exhibition Dates
Let us know times when you would not be able to exhibit, as well as your preferred exhibition dates. Please be as flexible as possible, as this means we are more likely to be able to offer you a space .
Save
Save
Save
Save