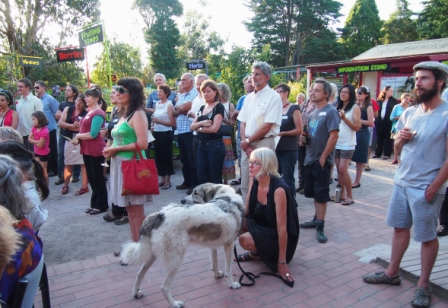 On Thursday 23rd of February 2012, as part of Melbourne's Sustainable Living Festival, Bulleen Art & Garden and more than 100 guestscelebrated the Earth's life support system, 'Gaia', in a night of discussion, performance, song and art whilst raising funds for Sustainable Gardening Australia. This was an evening to launch a large new mural and open an exhibition, but included much much more – music, puppets, theatre, speakers, gourmet nibbles, walks and much good cheer!
It was a perfect evening – Gaia was certainly smiling apon us!
Who is Gaia?
"If we think of ourselves as a part of a giant living organism and perhaps even a cause of its indigestion, then we may be guided to live within Gaia in a way that is seemly and healthy.'
Named after the Greek Goddess the Gaia Principle was first proposed in the early '70s by James Lovelock as an ecological organising principle by which the Earth self-regulates, maintaining the conditions necessary to sustain life.

Habitat Walk
We explored Bulleen Art & Garden's river revegetation site – a unique flood-plain habitat and urban wildlife corridor with experts -Paul McMorran (BAAG CEO) and Glen Mansfield, who has been nurturing this area for the past few years. This is a long term project for bulleen Art & Garden, in conjunction with Parks Victoria, which has been in progress since 1996.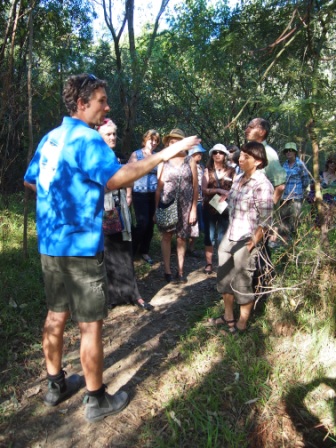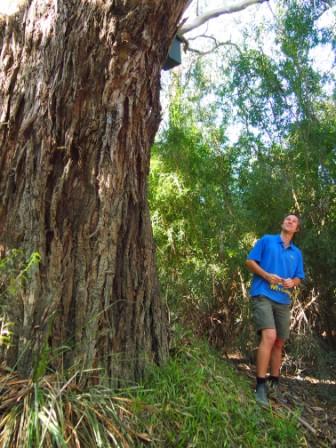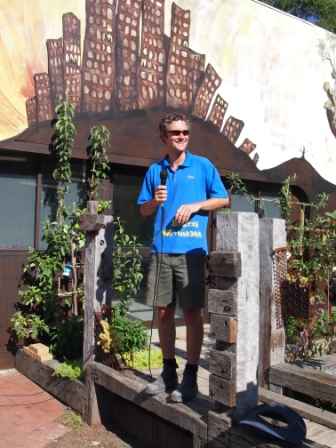 Bulleen Art & Garden CEO, Paul McMorran started off the evening, letting our guests know about Bulleen Art & Garden's passion for encouraging both art and sustainability, before introducing –
Learning to Fly
-a performance with The MacQuails using lifelike marionettes
www.sanctumtheatre.org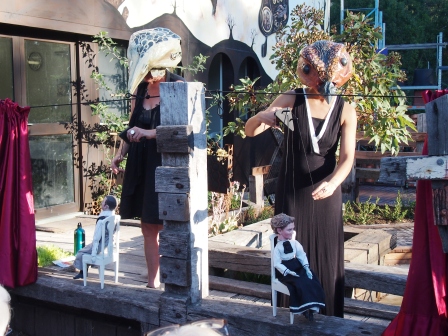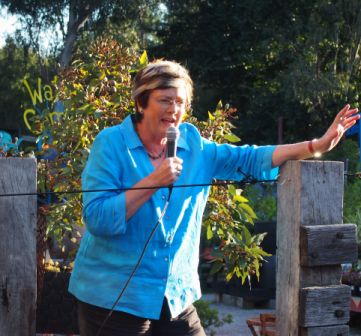 Jane Edmanson
Well-known television and radio gardening personality and patron of SGA, Jane Edmanson, discussed the potential for biodiversity in your backyard, and the intricacies of animal manures discovered in her travels.

Sustainable Gardening Australia www.sgaonline.org.au
CEO Mary Trigger gave us an overview of SGA.
SGA is a not-for-profit, non-government organisation established in 2003 and dedicated to changing the way Australians garden.
SGA envisages a world where people cultivate their gardens in sympathy with the natural environment by following the seasonal rhythms of the land, its ecology and its climate.
A percentage of The Conservatory sales go to supporting SGA, and donations were made to SGA on hte night.
Mural Launch.
Bulleen Art & Garden's latest permanent art fixture, The Final Journey of Pedro Piscator, by Lachlan Plain was launched by Jason Smith, director and CEO of Heide Museum of Modern Art www.heide.com.au
This ambitious 11 x 5m mural by Lachlan Plain www.lachlanplain.com tells the story of wily adventurer, Pedro Piscator, whose ship is powered by melody, charting a sonata through the sky and towing a floating island upon which he's collected the most singular of species, rescued from a sullied Earth.
More information on this mural.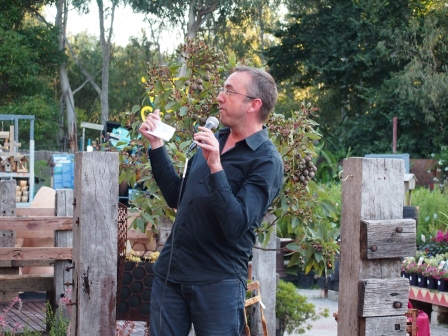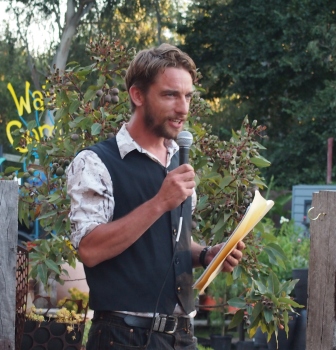 Exhibition Opening
Bulleen Art & Garden's Bolin Bolin Gallery opens its latest exhibition, Sanctum Theatre's Conservatory of Singular Specimens. The Conservatory is an ark upon which Sanctum and BAAG artists rescue some of our most singular specimens – whether they be arboreal, bestial or purely alchemical.
Click here for more information on this exhibition
City Creatures
The formalities were interrupted by  an appearance by the Sanctum Theatre's City Creatures from 'the sordid underbelly of the metropolis'  – the city installation next to the stage suddenly erupted into life, with an ensuing epic struggle www.sanctumtheatre.org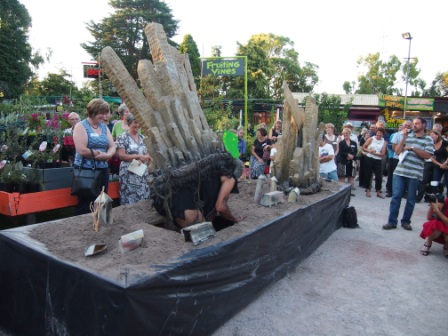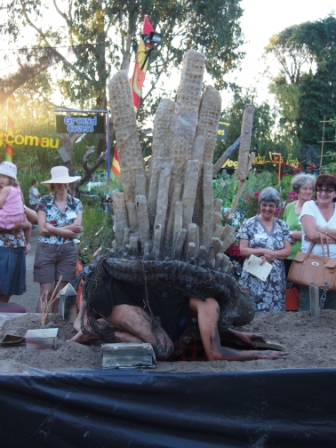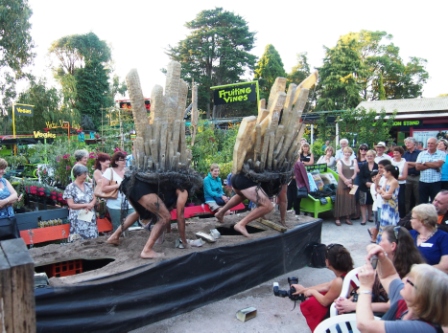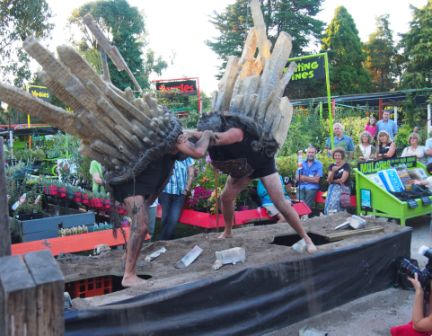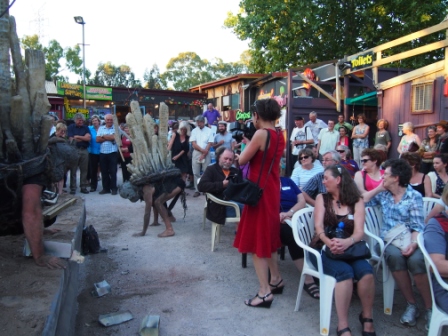 Live music, both before and during the performances,  by Andy Jans-Brown.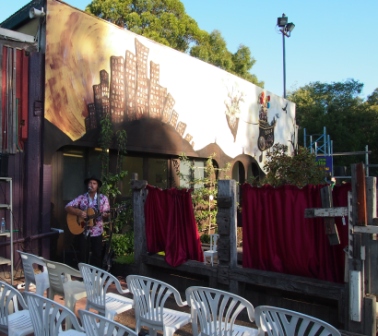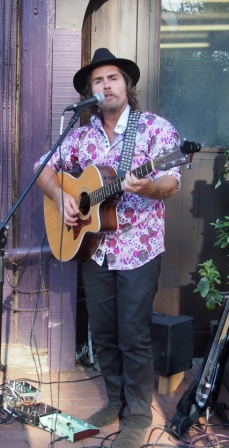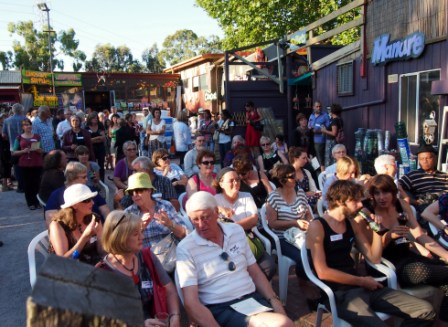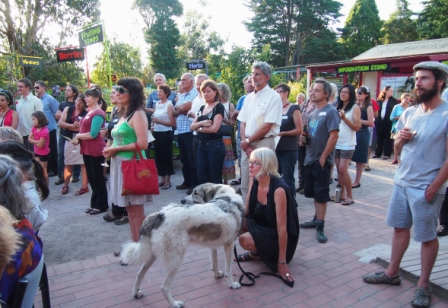 Produce Walk
Laurel helped us discover an eclectic range of edible plants and learn about their cultivation, on a tour of Bulleen Art & Garden's display gardens.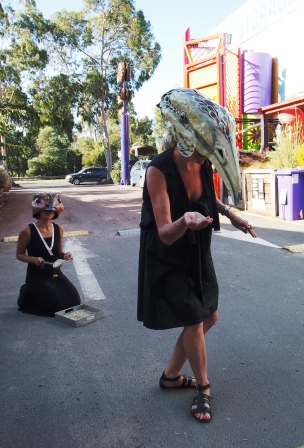 Sanctum Theatre's "McQuails" greeted guests as they arrived
The wine flowed, and there were gourmet nibbles by our resident gardening chef Dan Burke – such as roasted figs (from his own garden) on goats cheese, olive tapenade & veg on toast, tomato on rye bread, seasonal fruits etc etc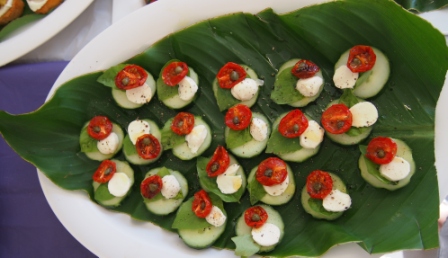 Bulleen Art & Garden www.baag.com.au
Environmental health and sustainable living are a major focus at Bulleen Art & Garden – as recognised by various community and environmental awards.
We educate and inspire our community through garden advice and information, sustainable living classes, support for Sustainable Gardening Australia and revegetation of adjoining parklands.
Art is another strong focus at Bulleen Art and Garden. We use art to inspire our customers to act in an environmentally responsible way, as well as providing exhibition and display spaces for our talented local artists.