December to February 2013
Metal and ceramic sculpture, mosaics and baskets.
By artists including:
Sandra Bain, Jeanette Carter, Mark Cowie, Susan Davies, Raine Edwards, Olive Evans, Ann-Maree Gentile, Nicola Hoyle, Lene kuhl Jakobsen, Robyn Norris, Meredith Plain, Wendy Smart
We've got a great exhibition set up in the Bolin Bolin Gallery. A wide range of work from 12 different artists- bright, fun, sculpted, organic – all in the one space and all working well together.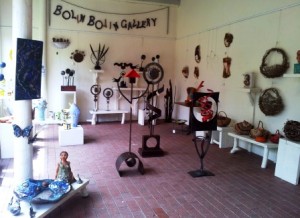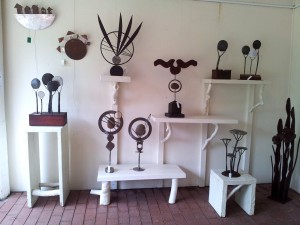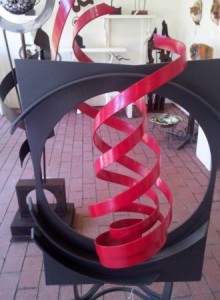 Sculpture by Mark Cowie
One new artist is Mark Cowie whose sculptures in metal and wood have an excellent form and energy. There are also garden sculptures by Nicola Hoyle.
There is a good selection of ceramic work – Anne-Maree Gentile's work includes some new vibrant wall platters; a small selection of Lene kuhl Jakobsen's classic pots; Wendy Smart's bright & quirky ceramic sculptures and vessels; Olive Evans' flower faces and bowls, and Susan Davie's small classic figurative sculptures.
As well as her popular ceramic masks Raine Edwards has this time bought in some artworks made from gourds – titled "Oh My Gourd".
Instead of her mosaics, Sandra Bain has meticulous botanically based drawings in this exhibition(although you can still see an good range of her mosaics next door in the shop). But Meredith Plain has tried her hand with some mosaic work after doing one of Sandra's weekend workshops.
Jeanette Carter and Robyn Norris both show what can be done with the medium of baskets.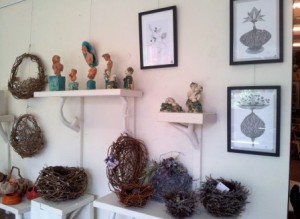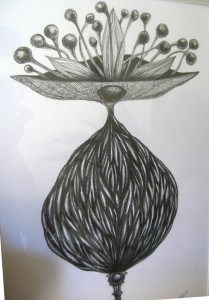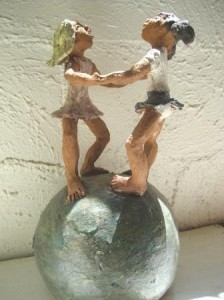 Mosaics by Meredith Plain/Drawings by Sandra Bain, ceramic sculpture by Susan Davies and baskets by Robyn Norris and Jeanette Carter