Sandra Bain, Colleen Burke, Michael Camilleri, Avis Gardner, Jodie Nunn, Melissa Osborne, Lachlan Plain, Meredith Plain, Giuseppe Raneri, Carmen Reid. Lucia Rossi, sue.k.
Gaia Night Opening, 6-8pm, Thurs 23rd Feb
Art Trail and Exhibition Floor Talk,3 – 4pm Sunday 26th February
Stroll across the lawns and detour down the leafy cul de sacs of Sanctum Theatre's Conservatory of Singular Specimens. The Conservatory is an ark upon which Sanctum and BAAG artists rescue some of our most singular specimens – whether they be arboreal, bestial or purely alchemical.

Installed in the Bolin Bolin Gallery at BAAG The Conservatory celebrates biodiversity and plurality in every sense.
There is be a display by Sanctum Theatre, including puppets used in previous productions. Artworks  include drawings, prints, sculpture, textiles, installation. And the artists include both artists who have been associated with Sanctum Theatre and artists involved with creating the permanent artworks around Bulleen Art & Garden
——————–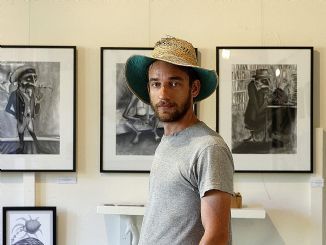 From the Manningham Leader –
Bulleen art in ecological environment
5 Mar 12 @ 05:00am by Anna Prytz
RECLAIMED materials are claiming the top spot at Bolin Bolin Gallery.
New exhibition, the Sanctum Theatre's Conservatory of Singular Specimens, has taken over the Bulleen gallery and gardens with sculptures and murals sending an eco-friendly message.
Co-ordinating artist Lachlan Plain said the exhibition, on until March 25, had a strong base in naturalism.
"Reclaimed timber, cloth and metals have been used to celebrate the environment and things like animals and the trees," he said.
"The gallery and garden is an ark upon which we rescue some of our most singular specimens."
Details: 8850 3030
Artist Lachlan Plain has made Bolin Bolin Gallery an eco-friendly hub. Picture: PAUL LOUGHNAN N35DT305
Just a few images from the exhibition…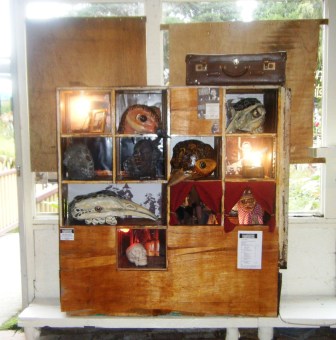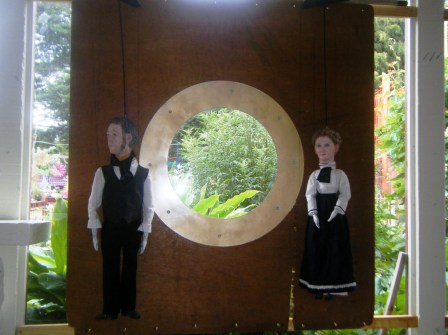 The Sanctum Theatre Cabinet and marionettes used in "The Plains" 2008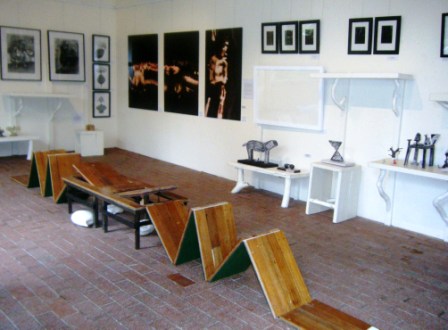 Exhibition with Creaks and Sighs, by Carmen Reid in the foreground of exhibition
and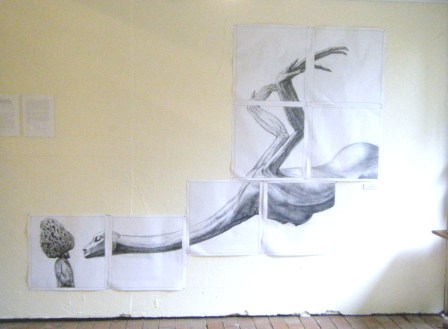 mushroom man and bird girl from Martin Martini's album "Vienna 1913", photocopy enlargements of biro drawings
Approx 3mx3m By Michael Camilleri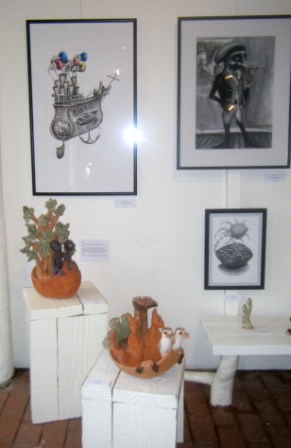 Pedro Piscator (Original mural design), and charcoal pastel drawing by Lachlan Plain, ceramic boats by Meredith Plain and pencil drawings by Sandra Bain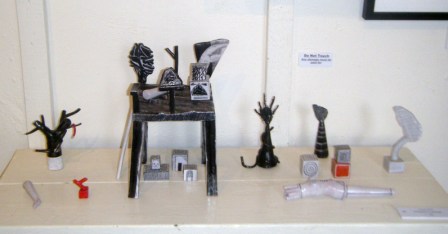 Ceramic Sculpture by Giuseppe Raneri and Quilt by Jodie Nunn