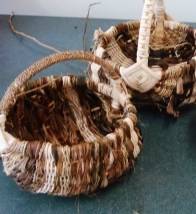 Make a traditional melon basket.
Bookings at https://weteachme.com/bulleenartandgarden/melon-baskets-workshop
Students will learn how to set up a frame for a ribbed basket. How to make god's eyes and other weaving techniques. You will also learn how to identify, collect and treat plant materials from the environment, for use in basketry. Natural fibres like Chasmanthe, Red Hot Poker, Cane, Sea Grass, Ginger Plant leaves, Iris leaves and Eleocharis spike rush will be used to make the basket. All materials are supplied.
These workshops are given by art teacher and a fibre and clay artist Jeanette Carter – more about Jeanette https://gallery.baag.com.au/?p=207
More about Jea