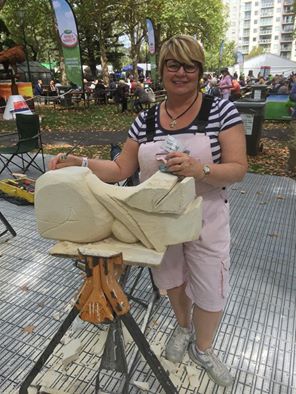 I am a Stone Sculptor – 'a carver of stone'
"Beginning with a boulder or a sometimes 'unwilling' lump, I am guided by the colour, texture, shape and size of the raw material . . . . it is my passion to release the form that I see lying hidden within."
– Jenny Whiteside
Jenny runs one day workshops at Bulleen Art & Garden, Click here to find out more.
Click here for dates and to book
Born and bred in Melbourne, Jenny's early interest in sculpture was inspired by the traditional-styled works of Michaelangelo, DaVinci and Raphael, and the passion and movement of Picasso, Whiteley and the Impressionists, and although completing many works in clay during her school years, that talent remained dormant thereafter for many years through the life distractions of career, travel, a precious son and equally demanding husband.
Jennys passion for sculpting was rekindled in the late 1990's on a trip through Zimbabwe, and although influenced initially by the African "Shona" stone sculpture, Jenny has since literally carved out her own distinctive and recognizable style, her imagination seemingly only limited by the availability of materials and time, and the physical energy required to draw her vision from a sometimes unwilling lump of stone.
Guided in each instance by the depth of colour, size and texture of the raw material, Jenny feels embraced and compelled by each subject piece, releasing a form that lies hidden within ; graceful torsos and busts, strong-willed heads and quirky individual anatomical snapshots, all of which are at once naïve and powerful, often sensual, and highly emotional.
Jenny's works include semi-precious Western Australian 'Flamestone' & rare African Cobalt and Verdite; other favourite mediums include Marble, Pyrophyllite, Serpentine and Alabaster.
Click here To watch a video on limestone carving , including showing Jenny at work prepared for Channel 31 Melbourne Great Stories Presented by Greg Champion or go to http://www.youtube.com/watch?v=LgfcLf64mvI