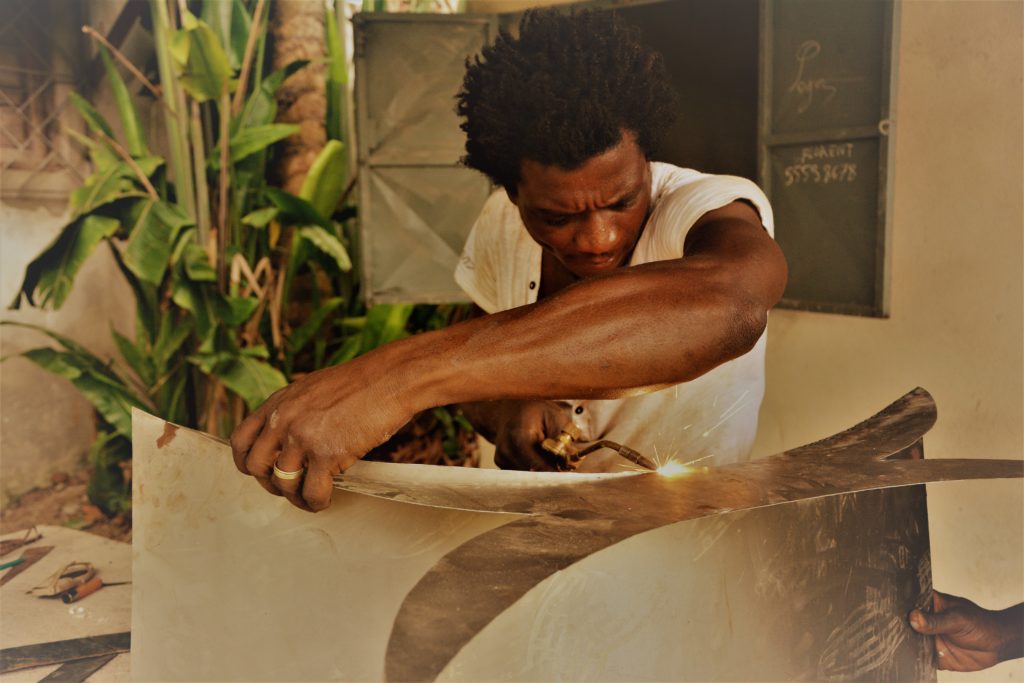 Issa Ouattara is an African/Australian sculptor who has been displaying his large sculptures at Bulleen Art & Garden since early 2018. He had an exhibition in the Bolin Bolin Gallery in March/April 2019 See informatuion about this exhibition at https://gallery.baag.com.au/?p=4052
About the artist
At 41, Issa's incredible smile and generosity of spirit belie his difficult start to his life. As a child of a broken family, Issa had no education and became homeless as an adolescent. He was able to find a job as an apprentice to repair refrigerators and slept under his work bench. When he was 15 his life was changed forever when he met Artist and Sculptor Michelle. Michelle had grown up in France but had fallen in love with Cote d'Ivoire and had lived there for over 40 years with her Ivorian husband. She became Issa's mentor and shared with him her passion and skills for sculpture and creative arts. Issa quickly became more than an assistant and developed his own unique style working with his favorite metal media.
Sadly, Michelle passed away suddenly when Issa was just 21. This left Issa distraught because she had become a source of constant artistic and spiritual inspiration and encouragement. After Michelle died, her family and friends encouraged Issa not to give up but to be inspired by Michelle and pursue his artistic endeavors with the use of her workshop. With their support, Issa's first solo exhibition was held and was a success. Since then, he exhibited regularly in Cote d'Ivoire and established a successful small business. He believes that Michelle's spirit lives on in his creations.
In 2006 he met an Australian doctor working in Cote d'Ivoire to combat the HIV/AIDS epidemic and life took another twist; with his partnership taking him first to Cape Town, South Africa to follow Monica and support her in her work, then to create their global home in a historic goldfields church and establish a studio and sculpture garden near Daylesford in Victoria, Australia. Beautiful daughters Angela and Sophie have now joined their journey.
Issa has won a number of prizes for his sculptures and now moves between his studios in Uganda (where Monica now works and the family is based), Cote d'Ivoire and Australia. Wherever Issa travels he participates in group and solo exhibitions and also seeks to create new artistic collaborations and foster young talent. In Australia he helped found the Spa Country Sculptors group, while in Uganda he helped initiate the 1st Free(AK) Show joining forces with curator Robinah Nansubuga and four other artists. Both groups work to showcase sculptures and other artforms in natural, non-gallery settings and make art accessible to the community and push boundaries in artistic expression and presentation.            

Issa Ouattara Sculpture
Unique contemporary sculptures and sculpt-art
In his contemporary sculptural expression Issa draws on his West African and artistic heritage and his life experience to create large figurative sculptures and functional sculpt-artworks which evokes strong and positive feelings. The integration of the old/ancient and new/now is subconscious but clearly present. The masculine media of mild steel is transformed to the feminine by Issa flowing forms including soft dynamic curves. While each piece is deeply personal embodying a part of Issa's essence, Issa hopes that his art can speak to its audience without accompanying narrative………