"Metal Transformations"
Sculpture by Issa Ouattara
15 March to 21 April 2019
This exhibition will showcase the work of African/Australian sculptor Issa Ouattara. Although now based near Daylesford in country Victoria, Issa's birth place was Cote d'Ivoire in West Africa. With a successful sculpting career in both Africa and Australia and family life in rural Australia, Issa demonstrates how a difficult start to life, including child labour, poverty, war, can be overcome.
His contemporary sculpture draws on his West African cultural and artistic heritage as well as his life experience to create large figurative sculptures and functional sculpt-artworks .
Find out more about Issa here or https://gallery.baag.com.au/?p=4071 or issaouattarasculpture.com.au
Artist Statement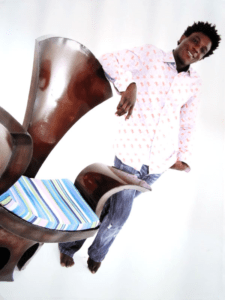 In my contemporary sculptural expression I draw on my West African and artistic heritage and many life experiences to create unique sculptures and functional sculpt-artworks designed to evoke strong and positive feelings. The integration of the old/ancient and new/now is subconscious but clearly present. I love transforming the masculine media of mild steel to the feminine with flowing forms and soft dynamic curves embodied with feminine wisdom and power.
I also enjoy blurring the boundary between sculpture as a pure art form and the creation of artworks with functional uses – thus my sculpt-art series of sculpt-chairs, unique fire pits, wood holders, lamps, tables, letterboxes and beyond. Designing a work for and with a particular client to meet their specific need and space is a wonderful creative journey.
While each of my creations is deeply personal embodying a part of my essence, I hope that my art can speak to its audience directly without accompanying narrative…
Issa