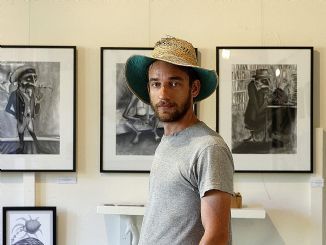 Lachlan is an artist, muralist, painter, poet, writer, puppeteer and cartoonist
Over the past ten years he's made a large contribution to the design and the displays at Bulleen Art and Garden , adding colour and interest with murals and sculpture. His most recent project at Bulleen Art & Garden has been his mural The Final Journey of Pedro Piscator. This mural and the exhibition he curated, Sanctum Theatre's Conservatory of Singular Specimens, were launched has at GAIA Night: a celebration of art & environment.
Lachlan has also exhibited his artworks in the Bolin Bolin Gallery. Most recently he curated and took part in Conservatory of Singular Specimens
He is artistic director and puppeteer with Sanctum Theatre,www.sanctumtheatre.org. Sanctum Theatre is a Melbourne-based, visual performance company presenting 'folk theatre' in everyday spaces. Sanctum Theatre was launched in 2006 with lament: candles & compost, the first theatre production to be staged at the Abbotsford Convent. Since then Sanctum Theatre have presented numerous interactive theatre events, community arts projects, exhibitions and the short film The Ferryman and his Wife.
As well as his work with Sanctum Theatre, Lachlan has puppeteered and performed for the Snuff Puppets, including a number of overseas trips (2007-'12), in The Legend of Ned Kelly, (Festival Centre, Adelaide & Arts Centre, Melbourne 2007) as well as The Human Layer, winner of the Melbourne Fringe Visionary Award (2005). He has collaborated on the design for The Now Hour, also winner of the Fringe Visionary Award (2004). Has completed a Post-graduate Diploma in Puppetry (2005) and a Masters of Theatre Practice, both at the VCA (2008). www.lachlanplain.com
Lachlan can be contacted at lachlan@sanctumtheatre.org
To view Lachlan's folio & web site click http://www.lachlanplain.com
The Final Journey of Pedro Piscator. 5x11m Click here for more detail