An Exhibition of glass art by Jenie Yolland
27 April-29 May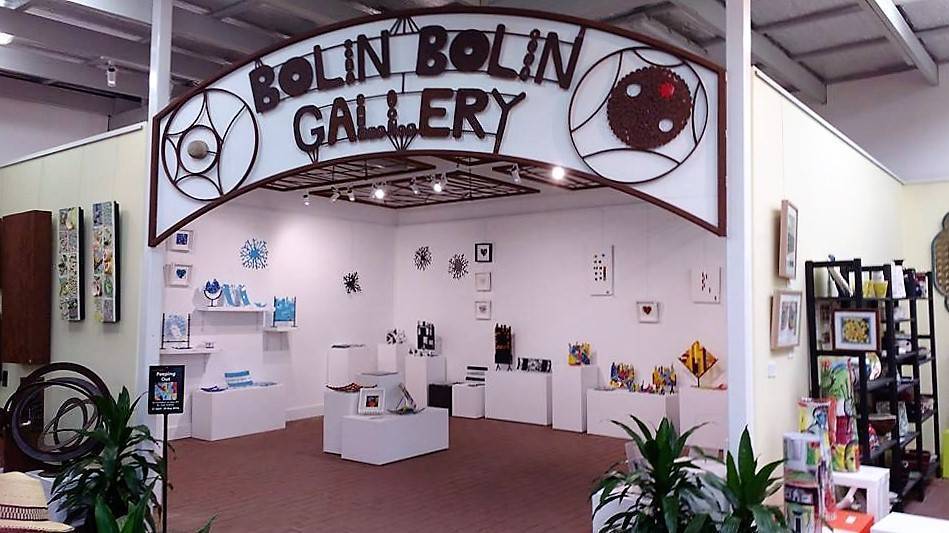 Jenie Yolland
Artist Statement
" I love everything about glass!
I have titled this exhibition "Peeping Out" because I want to show how we only see a tiny portion of the world as it really is. It's only our perception…we see merely a story, an event, a history and from our cultural perspective…….
I love the fact that opaque glass can be used to create the window from   while the transparent glass is like  different windows in our souls to see the world reflected on us or on a wall in a variety of ways.
These pieces have been inspired by great cathedrals and the magnificent colours that are thrown onto the people and objects inside.
I have been working as a glass artist in Melbourne for 20 years. I sell internationally, exhibit in galleries and teach in my Richmond studio.
Thanks for reading, and keep creating."
Images from the exhibition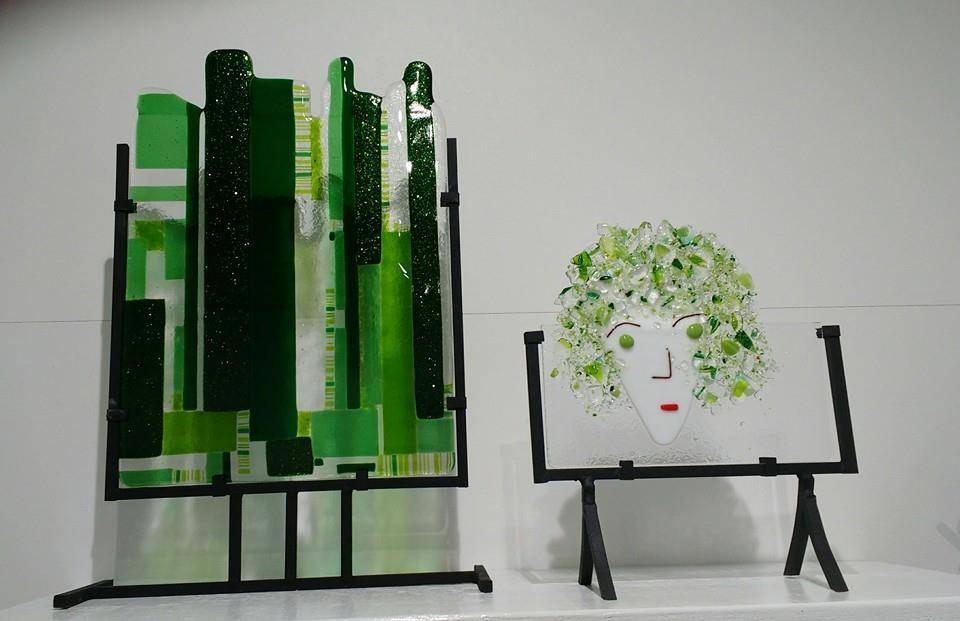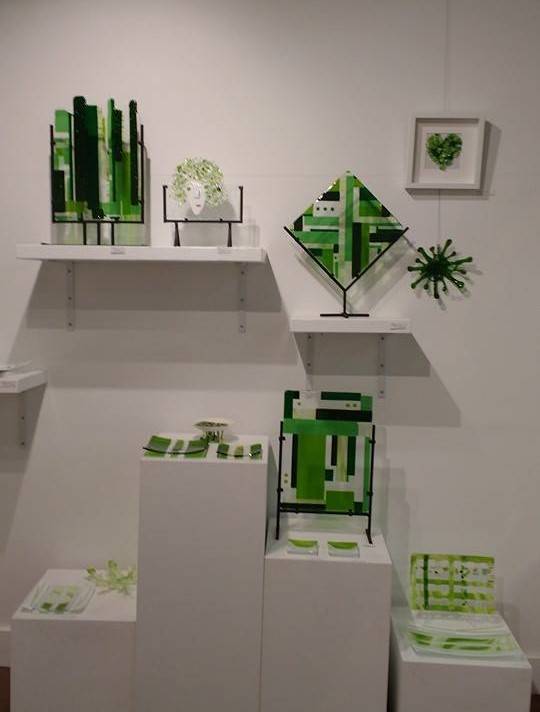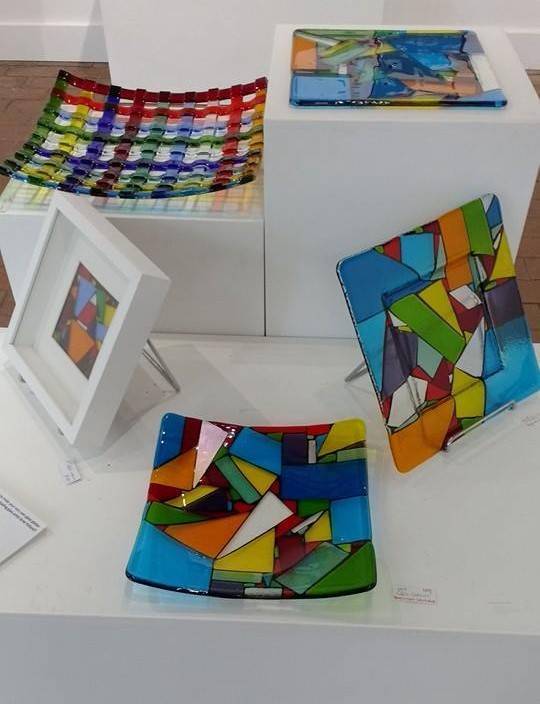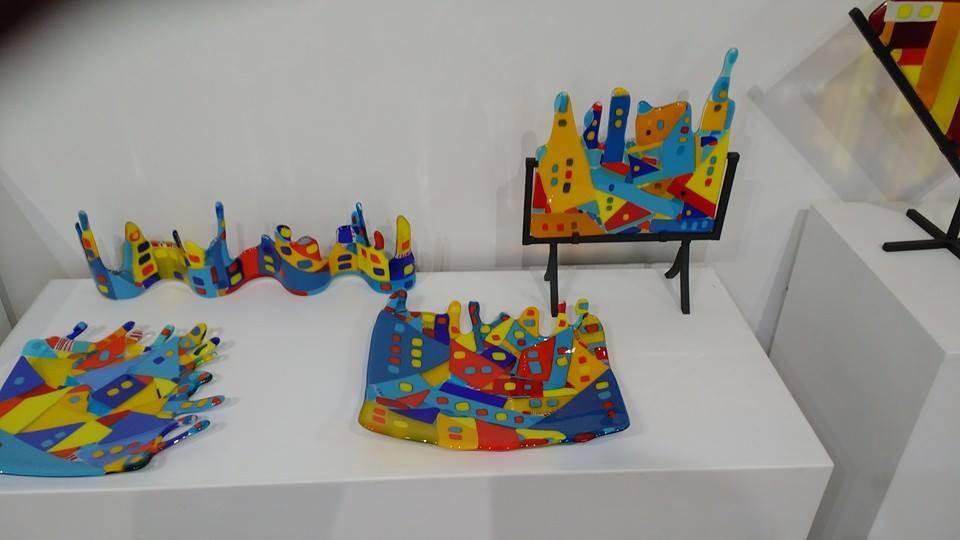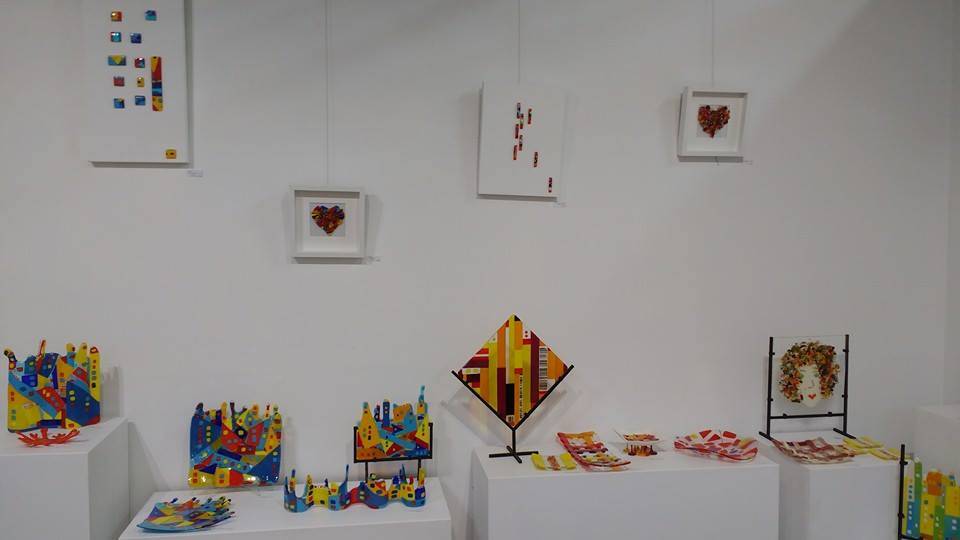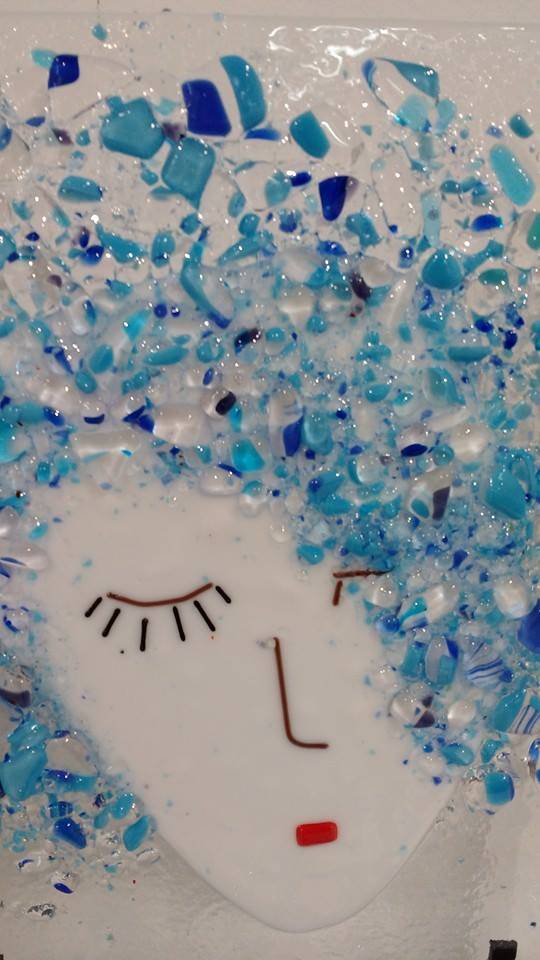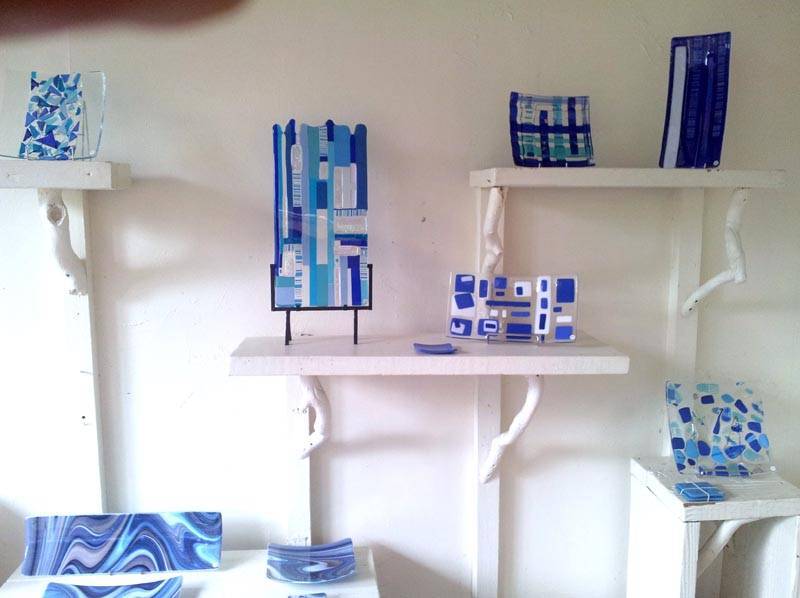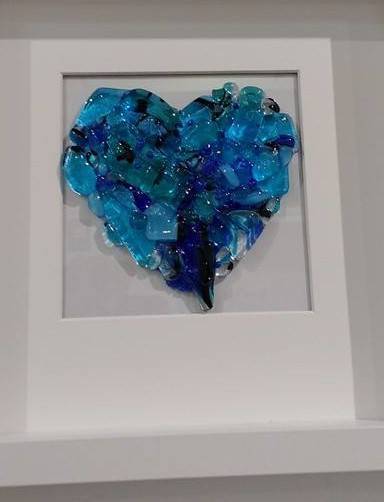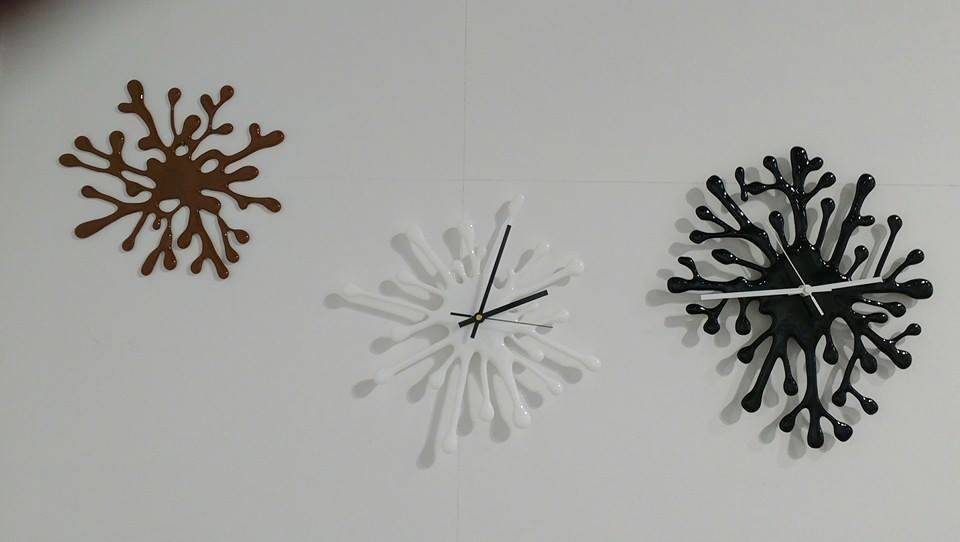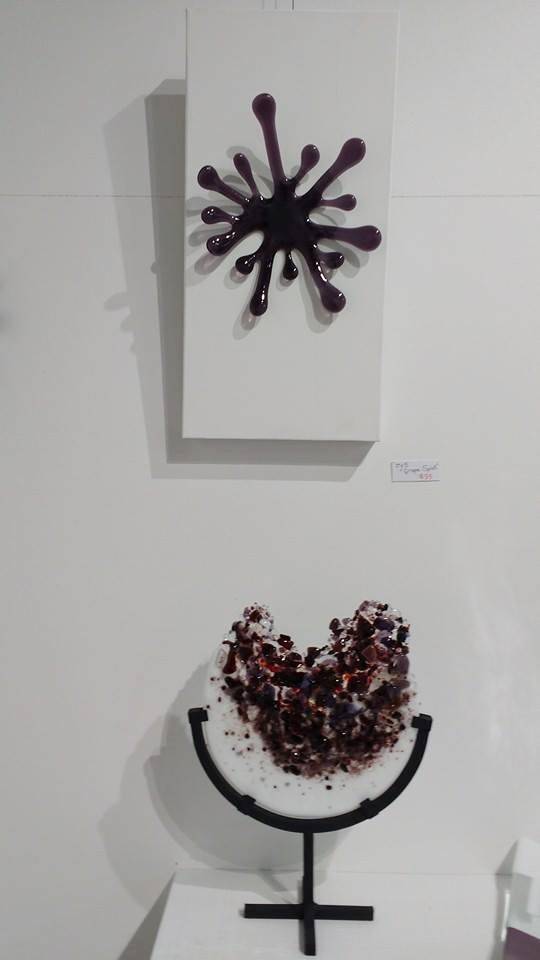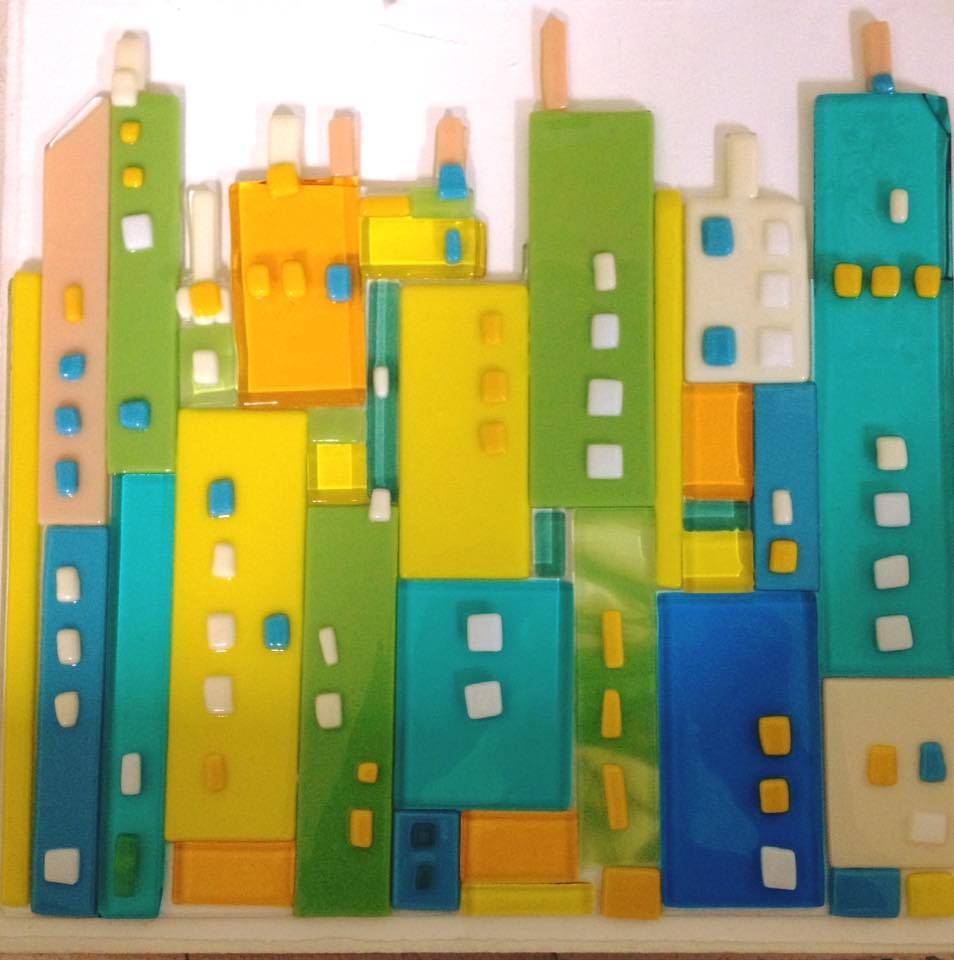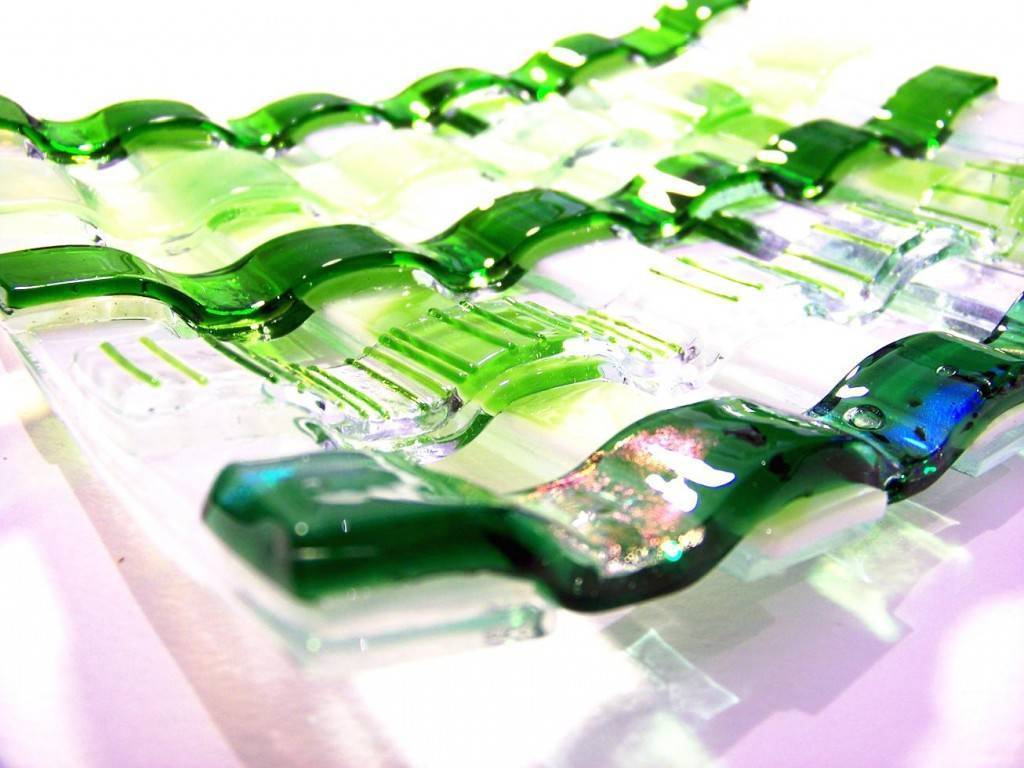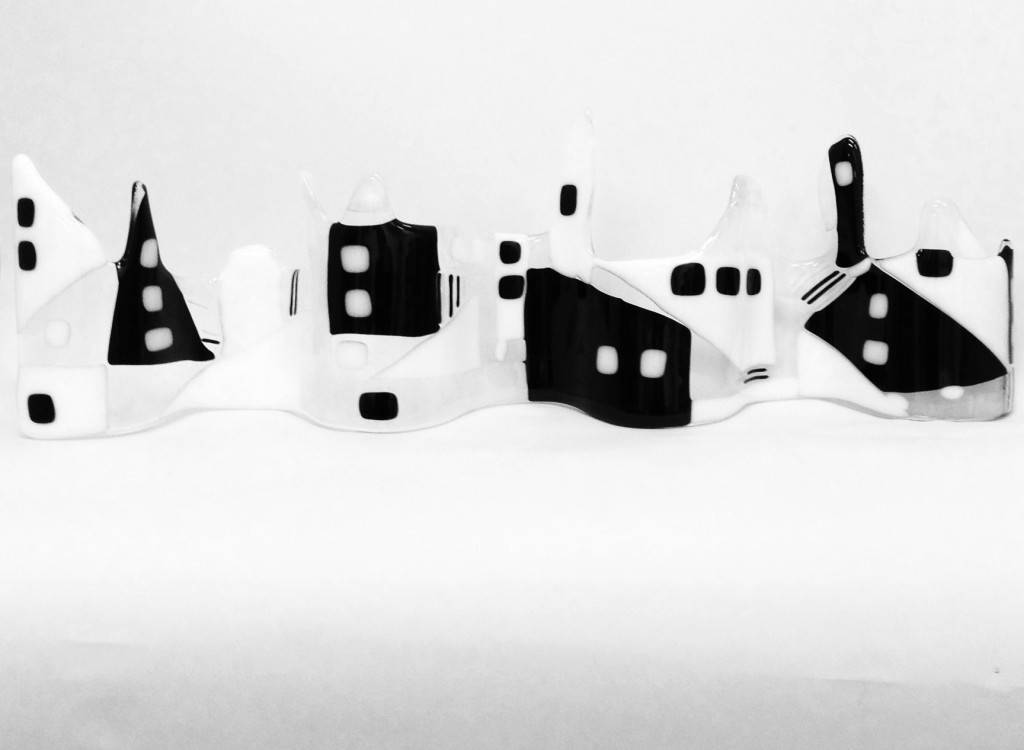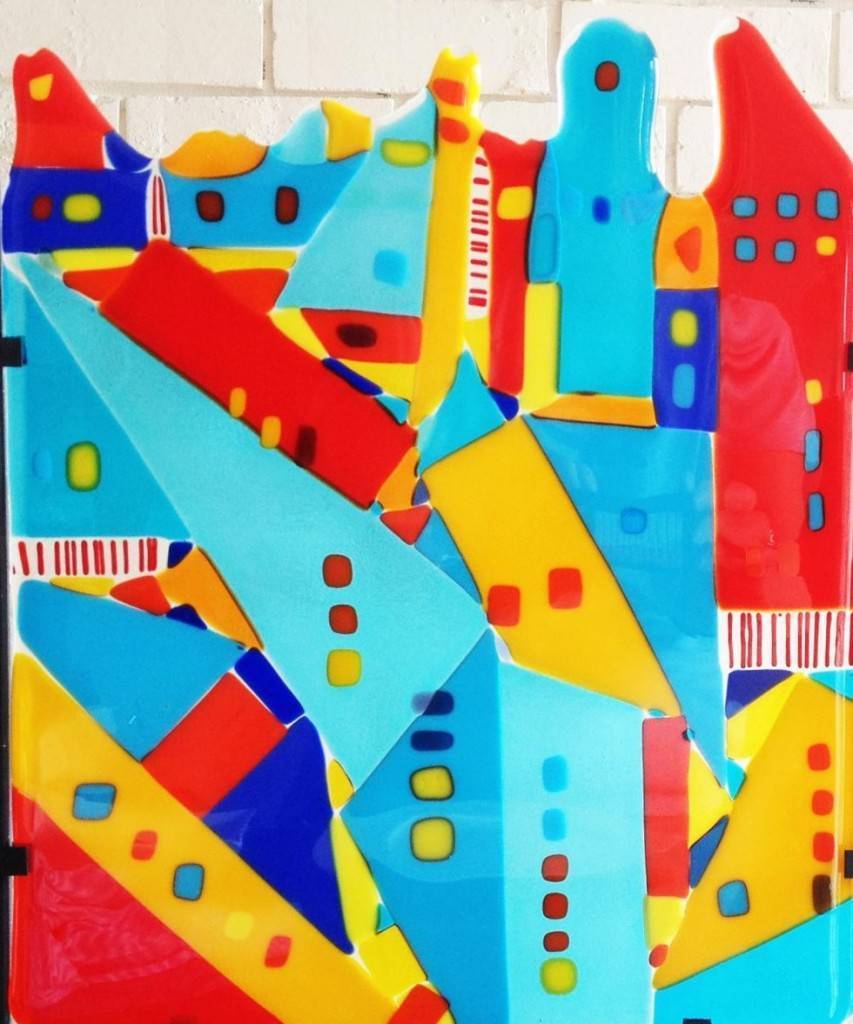 Jenie has exhibited in the Bolin Bolin Gallery in 2015. Find out about this exhibition.  https://gallery.baag.com.au
/?p=1649
Talk and demonstration
Sunday 1st May at 1pm
Join Jenie in the Bolin Bolin Gallery in the midst of her new exhibition, "Peeping Out" while she talks about her work and shows you how it is made.   Book at Weteachme, https://weteachme.com/bulleenartandgarden/1012394-glass-art-with-jenie-yolland-free-talk-and-demonstration or else just come along.
Setting Up
Jenie setting up the exhibition with her daughter and her friend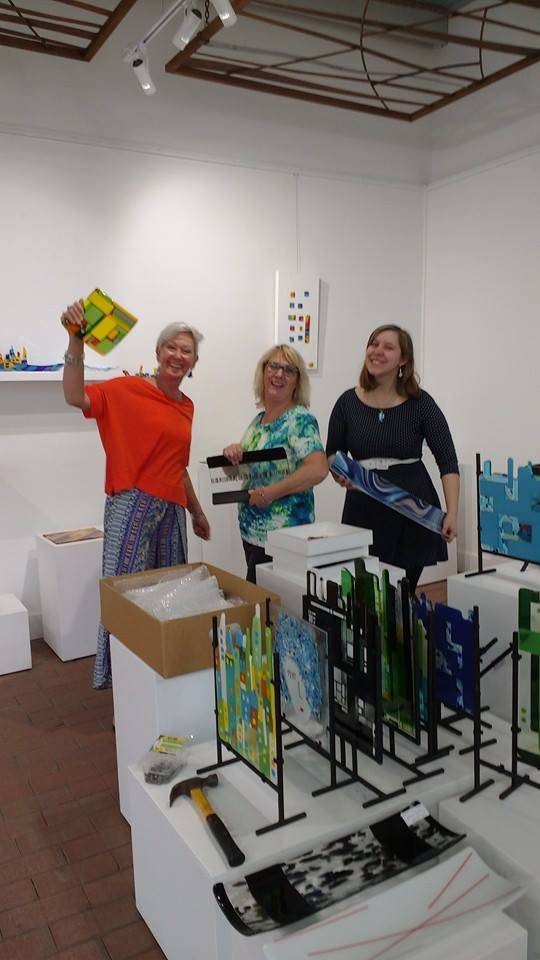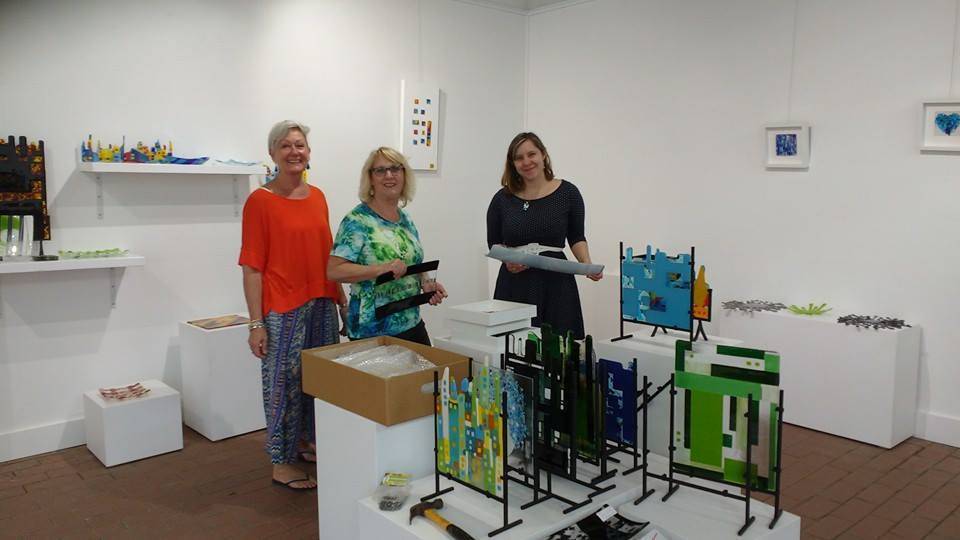 Jenie has exhibited in the Bolin Bolin Gallery in 2015. Find out about this exhibition.  https://gallery.baag.com.au
/?p=1649
Exhibition Catalogue
jenie yolland glass
Bolin Bolin Gallery
JEY1
Barcelona city
opaque glass representing Barcelona city on white canvas
not for sale
JEY2
Life's Colours
combination of transparent art glass on white canvas
$90.00
JEY3
Arizona
combination of opaque colours of Arizona on white canvas
$99.00
JEY4
Meteorites
sparkling scarlet rectangles on white canvas
$99.00
JEY5
Grape splat
grape splat on white canvas
$99.00
JEY6
Cobalt
Glass Heart in square shadow frame
$99.00
JEY7
Blues
Glass Heart in square shadow frame
$99.00
JEY8
Red Kiss
Glass Heart in square shadow frame
$99.00
JEY9
Barcelona inspired
Glass Heart in square shadow frame
$99.00
JEY10
Green & fresh
Glass Heart in square shadow frame
$99.00
JEY11
Black in black frame
Glass Heart in square shadow frame
$99.00
JEY12
Toffee
Glass Heart in square shadow frame
$99.00
JEY13
Clear Sparkling Iridized
Glass Heart in square shadow frame
$99.00
JEY14
Study in Blue Edges
Interesting blue three dimensional glass
$135.00
JEY15
Life's Colours
Life's Colours in a frame
$135.00
JEY16
PEEPING OUT
green village uneven top
$220.00
JEY17
PEEPING OUT
green village even top
$220.00
JEY18
PEEPING OUT
on a v shaped stand green village even top
$220.00
JEY19
PEEPING OUT
black yellow and clear uneven top in a stand
$220.00
JEY20
PEEPING OUT
black white and clear PEEPING OUT
$220.00
JEY21
PEEPING OUT
Cobalt PEEPING OUT
$220.00
JEY22
PEEPING OUT
Turquoise PEEPING OUT
$220.00
JEY23
PEEPING OUT
White PEEPING OUT
$220.00
JEY24
Test Pattern (dawn)
Orange red black test pattern in stand
$220.00
JEY25
Barcode
Blue/grey freestanding artglass sculpture
$220.00
JEY26
GEODE SERIES
Purple amethyst geode
not for sale
JEY27
GEODE SERIES
cobalt geode
$135.00
JEY28
MY GIRLS SERIES
Cornelia (the red head in a semi circular stand)
$135.00
JEY29
MY GIRLS SERIES
Deboarah (the red head on clear glass in square stand)
$199.00
JEY30
MY GIRLS SERIES
Felicity (the green haired girl)
$135.00
JEY31
MY GIRLS SERIES
Georgie (the blue haired girl with her eyes closed)
$199.00
JEY32
SPLAT SERIES
Black Splat Clock (large 34cms)
$285.00
JEY33
SPLAT SERIES
White Splat Clock (small 20cms)
$199.00
JEY34
SPLAT SERIES
white splat for your walls – a unique talking point one
$150.00
JEY35
SPLAT SERIES
black splat for your walls –  a unique talking point one
$150.00
JEY36
SPLAT SERIES
charcoalblack splat for your walls –  a unique talking point one
$135.00
JEY37
SPLAT SERIES
chestnut brown – one off splat for your walls
$135.00
JEY38
SPLAT SERIES
turquoise blue wall splat – unique design
$199.00
JEY39
black splat
multidimensional splat art bowl
$199.00
JEY40
forest gren splat
forest green transparent art glss splat bowl
$95.00
JEY41
lime delish spalt
lime delish splat art glass bowl
$95.00
JEY42
avocado splat dish
avocado green splat art glass bowl
$82.00
JEY43
scarlet splat
bright scarlet splat feature art glass bowl
$145.00
JEY44
all blues splat bowl
lovely blue and turquoise splat bowl
$145.00
JEY45
splat coaster
black splat coaster
39 each
JEY46
splat coaster
charcoal splat coaster
39 each
JEY47
splat coaster
charcoal splat coaster
39 each
JEY48
splat coaster
white splat coaster
39 each
JEY49
splat coaster
white splat coaster
39 each
JEY50
pick up sticks
white with red design across whole baguette platter
$199.00
JEY51
blueberries and cream
blue swirling design across whole baguett platter
$199.00
JEY52
making charcoal
black and white interesting design perfect for a Fitzroy apartment
$199.00
JEY53
Splish Splash bowl
interesting shaped bowl for centrepiece at beachhouse
$145.00
JEY54
Hot August Night
orange red a touch of cobalt interesting shaped centrepiece
$145.00
JEY55
SPARKLING CHOLOROPHYLL
sparkling green chlorophyll strips in transparent leaf edge
$199.00
JEY56
SPARKLING CHOLOROPHYLL
sparkling green chlorophyll strips in transparent leaf edge
$120.00
JEY57
SPARKLING CHOLOROPHYLL
sparkling green chlorophyll strips in transparent leaf edge
$39.00
JEY58
SPARKLING CHOLOROPHYLL
sparkling green chlorophyll strips in transparent leaf edge
$45.00
JEY59
blue boaat
The Blue Boat
$120.00
JEY60
Amethyst Swirl
purple white swil design (one off glass piece)
$145.00
JEY61
Barcelona at night
freestanding Barcelona design
$220.00
JEY62
Barcelona at night
freestanding Barcelona design
$220.00
JEY63
Barcelona daytime
freestanding Barcelona design
$220.00
JEY64
Barcelona daytime
freestanding Barcelona design *has a stand
$220.00
JEY65
Barcelona daytime
Barcelona design *needs an acrylic stand
$220.00
JEY66
Barcelona daytime
Barcelona design freestanding design
$220.00
JEY67
Barcelona daytime
Barcelona design freestanding design
$220.00
JEY68
WOVEN SERIES
Gaudi inspired Art Glass Woven fruit bowl
$199.00
JEY69
WOVEN SERIES
Ocean inspired Art Glass Woven Fruit bowl
$199.00
JEY70
Blue Heaven Woven
Blue and white open weave fruit bowl
$120.00
JEY71
Green Woven
Open weave lime fruit bowl
$120.00
JEY72
First Light Woven
red orange yellow woven platter
$120.00
JEY73
The Apartment
black and white woven platter
$120.00
JEY74
Blue Woven
The Blues Woven with dichroic
$150.00
JEY75
Ocean Woven
all blues and a touch of green ocean woven
$150.00
JEY76
Sierra woven
Siena dunes woven fruit bowl
$120.00
JEY77
Suspended Drips
orange red and yellow glass drips in 3D (not able to be wrapped)
$100.00
JEY78
Suspended Drips
green with sparkles drips in 3D (not able to be wrapped)
$100.00
JEY79
Suspended Drips
cobalt and other blue drips (not able to be wrapped)
$135.00
JEY80
lime delish series
fresh green with whtie edges and green strips on design
$199.00
JEY81
lime delish series
fresh green with whtie edges and green strips on design
$120.00
JEY82
lime delish series
fresh green with whtie edges and green strips on design
$24.00
JEY83
lime delish series
fresh green with whtie edges and green strips on design
$24.00
JEY84
Paris Elegance series
black edges with elegant lines of black and white in the centre
$199.00
JEY85
Paris Elegance series
black edges with elegant lines of black and white in the centre
$120.00
JEY86
Paris Elegance series
black edges with elegant lines of black and white in the centre
$45.00
JEY87
Arizona
combination of opaque colours of Arizona
$199.00
JEY88
Arizona
combination of opaque colours of Arizona
$90.00
JEY89
Arizona
combination of opaque colours of Arizona
$24.00
JEY90
Arizona
combination of opaque colours of Arizona
$24.00
JEY91
Blue Bride
sparkling blue bridal gift elegant
$199.00
JEY92
Tight Lines Series
tight lines for the fisherman on the turquoise seas
$199.00
JEY93
Tight Lines Series
tight lines for the fisherman on the turquoise seas
$120.00
JEY94
Surfers Paradise
swirling turquoise and clear art glass dimensional candle holder
$45.00
JEY95
Surfers Paradise
swirling turquoise and clear art glass little bowl
$45.00
JEY96
cumumlous
swirling white on clear art
$24.00
JEY97
cumumlous
swirling white on clear art
$120.00
JEY98
Sunrise Anticipation
bright yellow edges with sunrise colours in the centre
$150.00
JEY99
Sunrise Anticipation
bright yellow edges with sunrise colours in the centre
$120.00
JEY100
Sunrise Anticipation
bright yellow edges with sunrise colours in the centre
$39.00
JEY101
Sunrise Anticipation
bright yellow edges with sunrise colours in the centre
$39.00
JEY102
Sunrise Anticipation
bright yellow edges with sunrise colours in the centre
$39.00
JEY103
Life's Colours
sampler of what is made in my beginners workshop
not for sale
JEY104
Life's Colours
sampler of what is made in my beginners workshop
not for sale
JEY105
Life's Colours
sampler of what is made in my beginners workshop
not for sale