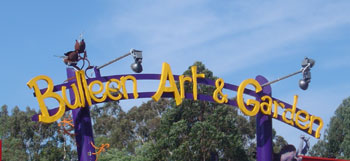 Ceramic and Metal Artist
Justin is a talented and versatile artist. He is now a sculptor of metal artworks and architectural details working in a 'big old barn' in Yarra Glen with views of the Yarra Valley. Justin creates artistic objects for the home and garden.
He originally completed his degree in Ceramic design in 1992, and then developed a reputation as a ceramic artist making timeless carved pots in brilliant blues. He exhibited widely, including at the opening of the Bulleen Art & Garden gallery. At this time; he also ran the Potter's Cottage School.


In 1997, an opportunity presented itself to work for manufacturers of wrought iron and kiln formed glass.Steel is a very artistic medium. "I like to think that "anything is possible – there are no boundaries" and this keeps me constantly challenged. "Sculptural water features and interesting outdoor furniture is where his artwork takes him in many directions. With a keen interest in animal and insect anatomy as well as plant structure, this is often where many of his designs and ideas originate.
Justin has also been responsibl for some of the distinctive features which have been appearing at Bulleen Art & Garden in recent years. He has worked on the large metal signs in the front of the centre and also some of the distinctive signage.