P  L  A  N  T  W  O  R  K  S
3 February 9:00 am

-

13 March 5:00 pm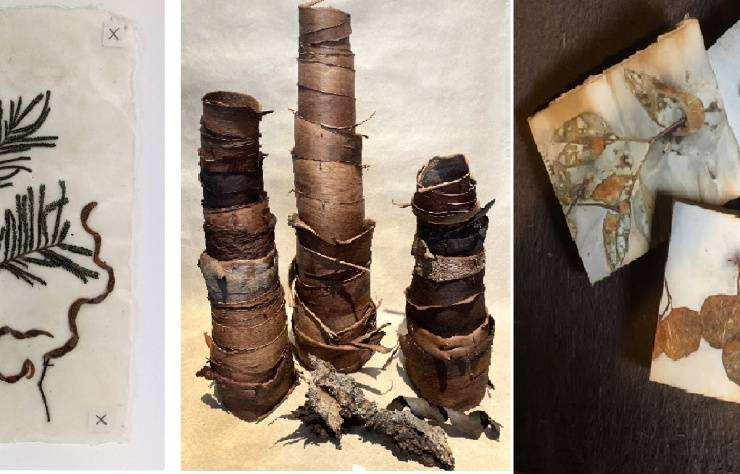 GAIL STIFFE, CECILIA SHARPLEY and ROSALIND PRICE
3 Feb to 13 March,, 2023
Exhibition Opening:
3-5pm Sunday 5th February
Bolin Bolin Gallery at Bulleen Art & Garden
6 Manningham Rd W., Bulleen. 88503030.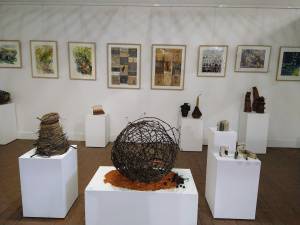 This exhibition brings together three artists whose work is inspired by nature and created from organic materials. We use plant matter to print and dye, to weave, to handmake paper for books, pictures, lampshades… Our focus here is on trees, leaves, and grasses, and the rivers that sustain all life.
Plants work hard for people. They provide food, oxygen, medicine, pigments, fuel, fibre; they create habitat for other species; they improve soil, store carbon, help regulate climate… And they give us pleasure. In response, we explore creative ways to work with plants. Like keen gardeners, we're fascinated by their forms, textures, colours, and uses. We celebrate their beauty, and relish the possibilities they offer for artistic expression that's low-impact, sustainable, and recyclable.
GAIL STIFFE I'm a Melbourne artist with 40 years' experience of papermaking.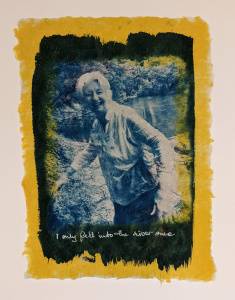 My works in this exhibition were inspired by the Birrarung / Yarra River. Over the course of six months, I took photos, collected river water, and foraged for fallen leaves, bark, and seed pods at more than twenty spots from Mt Baw Baw to Newport, and on many tributaries.
I soaked Zerkall paper in river water, then steamed it with collected plant matter and an iron blanket to create leaf prints. The Birrarung collections came together in a 1m-long book; the tributaries inspired smaller books. I used my photos to make cyanotype prints. Embedding leaves and seedpods into very fine handmade paper, then waxing the sheets, I created delicate works reminiscent of a botanist's specimen collection. I constructed canoes by folding eco-printed papers (kōzo, Zerkall, and handmade papers) and coating them with wax.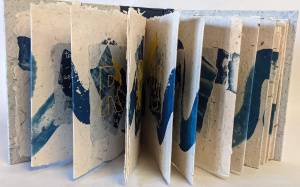 CECILIA SHARPLEY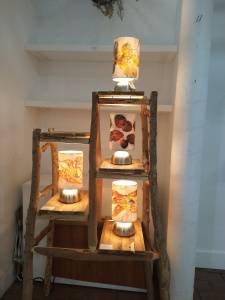 I'm a papermaker, bookbinder, printmaker, and calligrapher living in Healesville. With a background in hand-spinning, weaving, and dyeing, I moved into lettering and handmade books, exploring both traditional and sculptural book design. Next, I ventured into making my own paper from plant fibre and recycled materials, and used it to create books. My current focus is on eco-printing, using eucalypt leaves for direct-contact dyeing onto felt, silk and paper. My fascination with the effects of gum leaves on paper continues as I explore their magical range of colours and try to unlock the secret of why eucalypts of the same species produce such variations.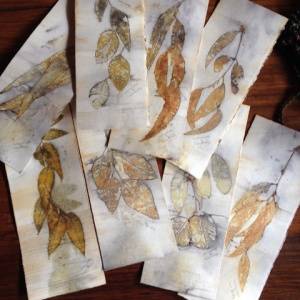 ROSALIND PRICE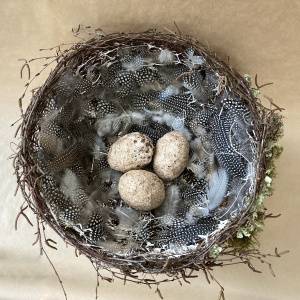 I'm a forager and a fiddler, a city-based person searching for connection with land and natural systems through drawing, painting, papermaking, weaving, and sculpture. I'm attracted to found materials, particularly plants, with their potential for new forms, relationships, and metaphoric charge. Sticks, leaves, seeds, bark, sand, shells, seaweed, vine… I love the feel of them in my hands, their ability to transform, decay, renew. My approach is a kind of collaborative play, with me coaxing materials and materials guiding me.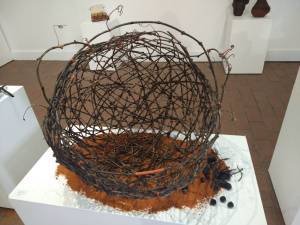 Previous exhibitions and sales
Gail Stiffe: Stonehouse Gallery, Warrandyte; Alcove Art Shop, Box Hill; Angela Robarts-Bird Gallery at Gasworks, Albert Park; Art Gallery on Darling, Balmain; and many group exhibitions in Australia and overseas
Cecilia Sharpley: YAVA Gallery & Arts Hub, Healesville; Wyreena Arts Centre, Croydon;
Waterwheel Gallery, Warburton; MiRa Regional Gallery, Marysville; Tarrawarra Museum of Art, Healesville; Stonehouse Gallery, Warrandyte; Wyreena Arts Centre, Croydon; Midnight Flowers, Healesville
Rosalind Price: Angela Robarts-Bird Gallery at Gasworks in Albert Park; Linden Gallery, St Kilda; City Library Gallery, Melbourne CBD; Collingwood Gallery, Fitzroy; Cambridge Studio Gallery, Collingwood; Gipps Street Gallery, Richmond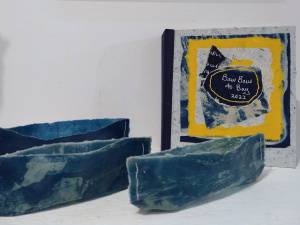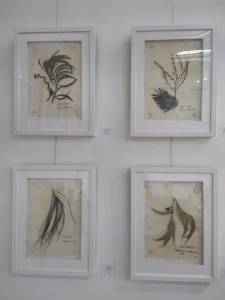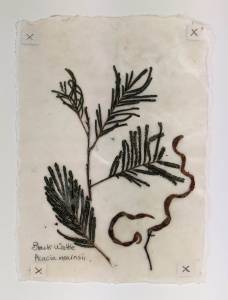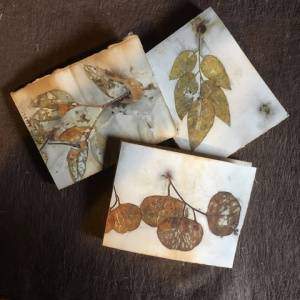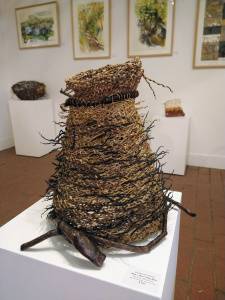 no images were found