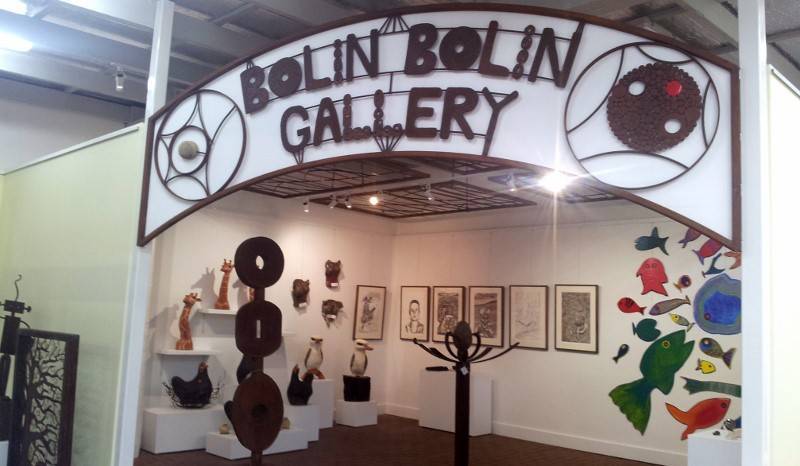 In 1995, at the urging of urged by staff member, Claire Nailer we decided to set up a gallery.Now, 20 years later we are moving and upgrading our exhibition space.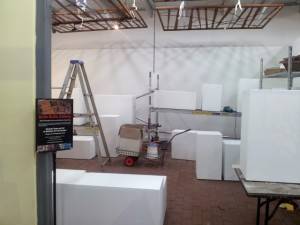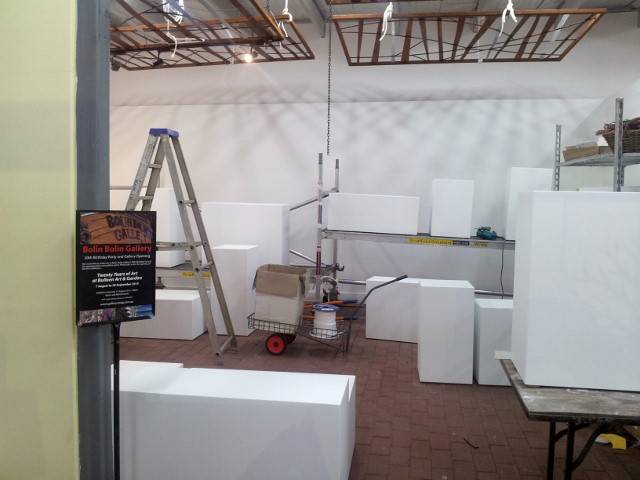 The Bolin Bolin Gallery opened in 1995. you can see more of our early exhibitions at https://gallery.baag.com.au/?p=2414 Since then 7-10 art exhibitions have been held every year and many hundreds of artists have been involved. Garden sculpture has always been popular , but a wide variety of art has been featured in the gallery – including sculpture from recycled materials, ceramic sculpture, mosaics, pottery, metal and stone sculpture, baskets, textiles, glass, paintings, photographs, installation and more!
This year we have decided to update and move our gallery space next door, with the old gallery being used to display outdoor art & furniture. This post will keep you updated on our progress.
Progress on the new gallery at 6/7/15
The New Bolin Bolin Gallery
This new gallery will be at the heart of Bulleen Art & Garden and the first thing you see when you enter.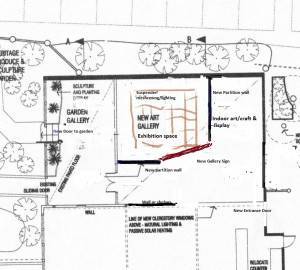 It will feature a new sculptured entrance  sign and a mesh ceiling by Nicola Hoyle, as well as a repaint and new gallery fittings.
Art Signage
A feature of the new gallery will be a new sign and ceiling panels created by sculptor Nicola Hoyle (More about Nicola). Works in progress shown here.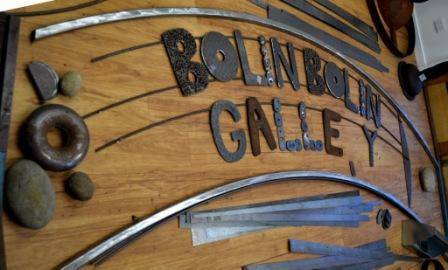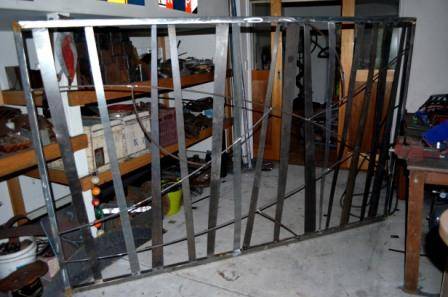 Building progress
This is where the new gallery will be 12/6/15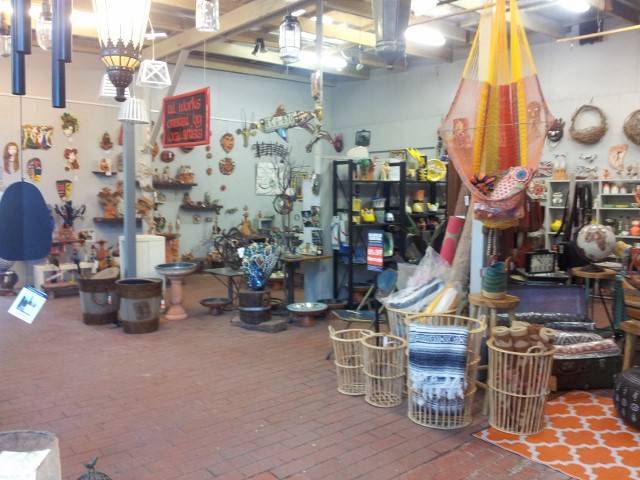 Clearing the space- 15/6/15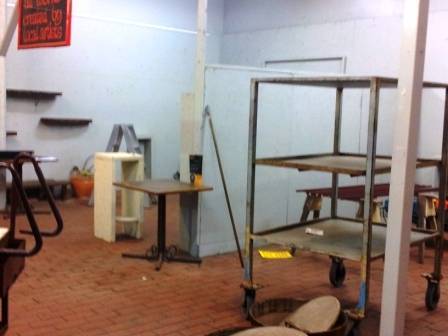 New walls are starting to take shape, 19/6/2015

More progress 26/6/15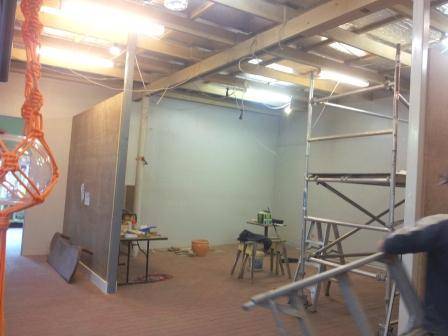 Painting nearly done, 6/7/15

And the electricians are at work getting the new lighting in, 15/7/15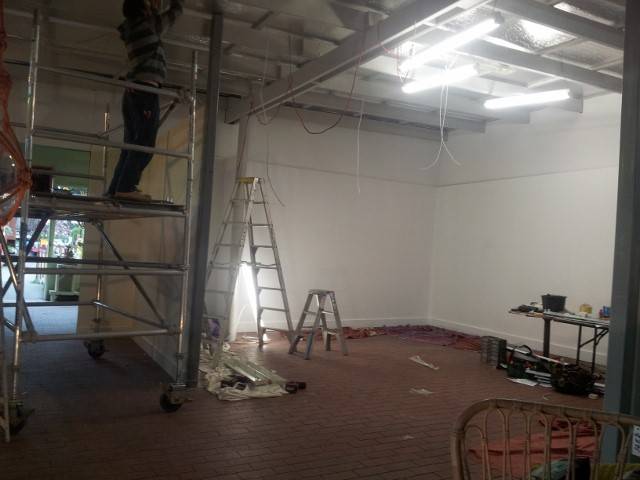 Painting of the section next to our new gallery, 8/7/15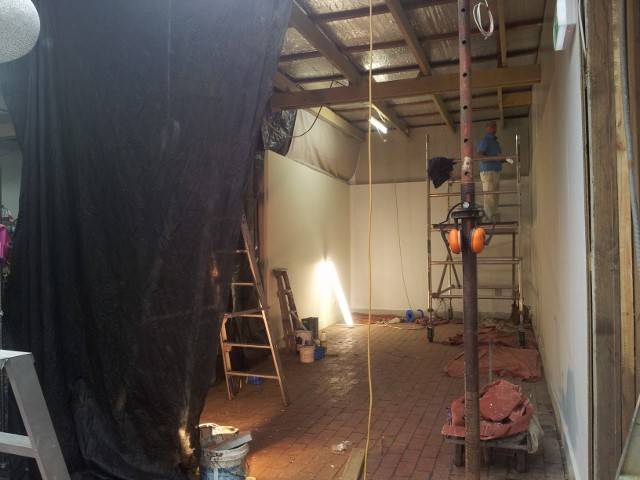 We are trying out the positions of the ceiling panels. 15/7/15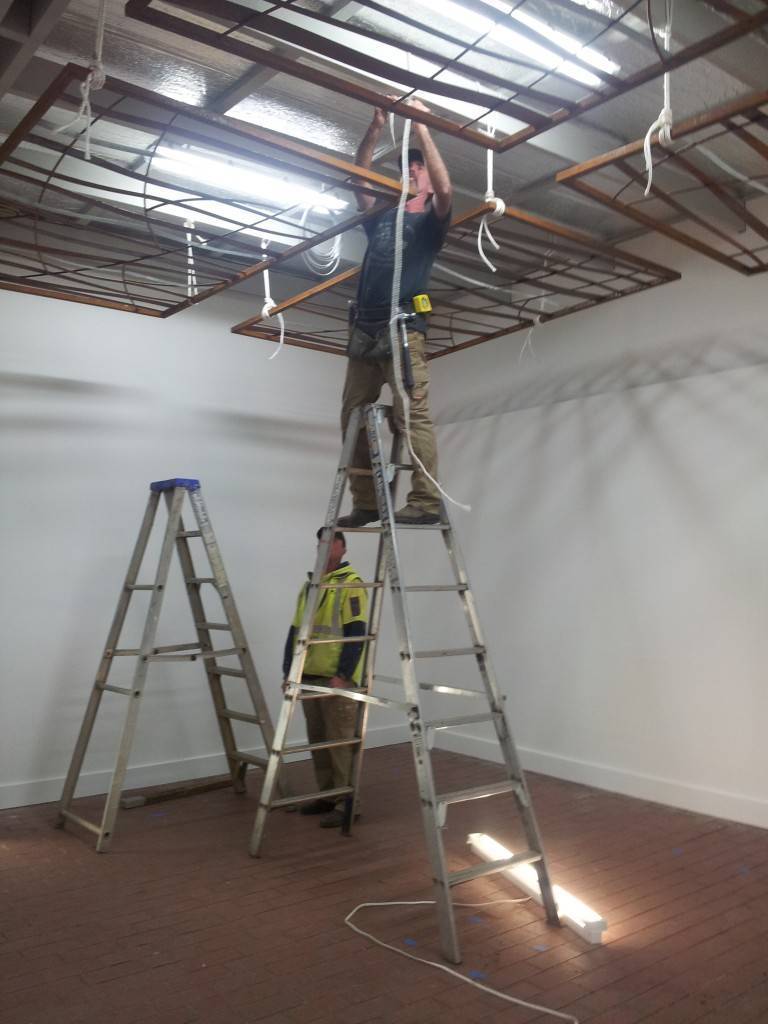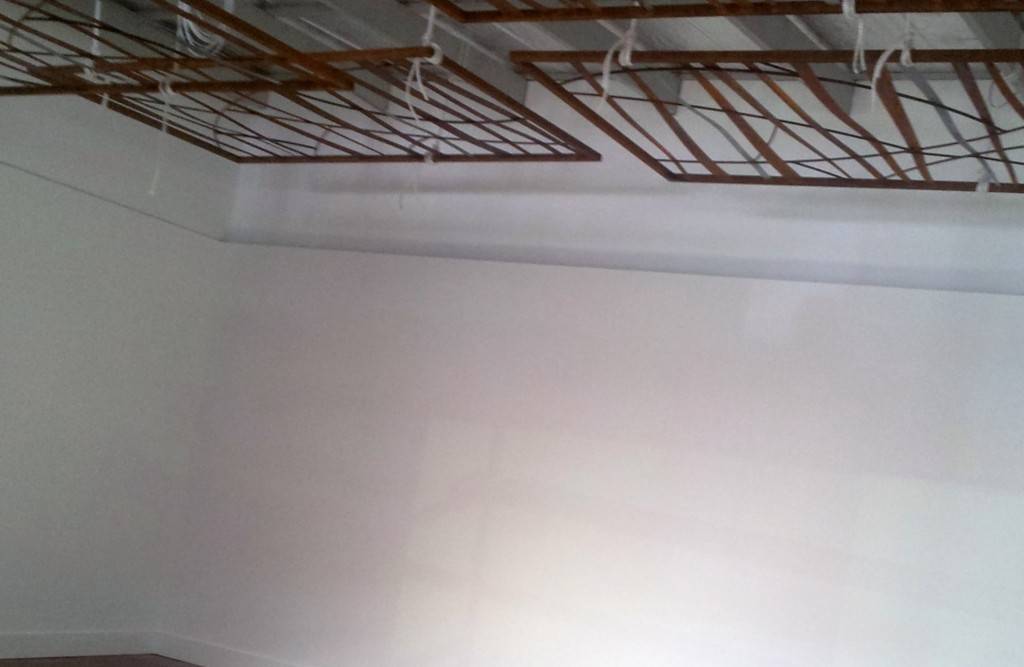 We have Lots of plinths!!22/7/15

Setting up the exhibition while the finishing touches are happening. 5/8/15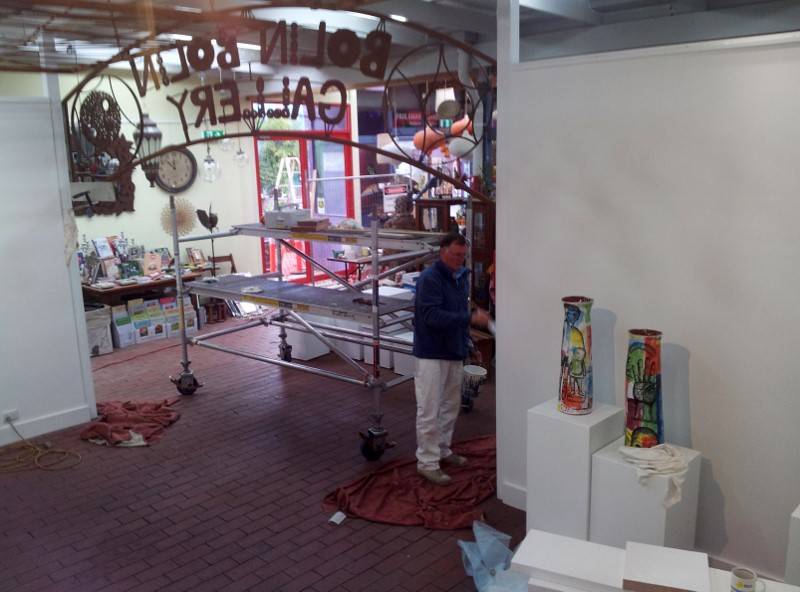 Gallery finished and first exhibition set up, 7/8/15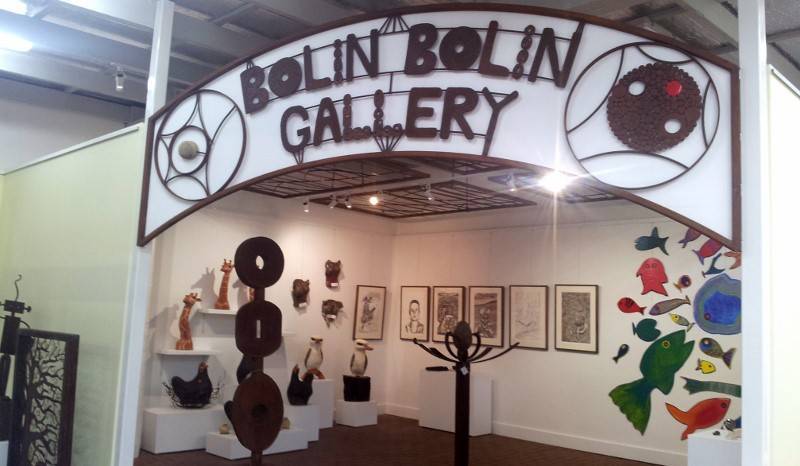 New entrance
And, we have a new entrance door to Bulleen Art & Garden. Made off site. This is where it will go – as planned when Garden Parterre entrance constructed in 2007. 8/7/15

7/8/15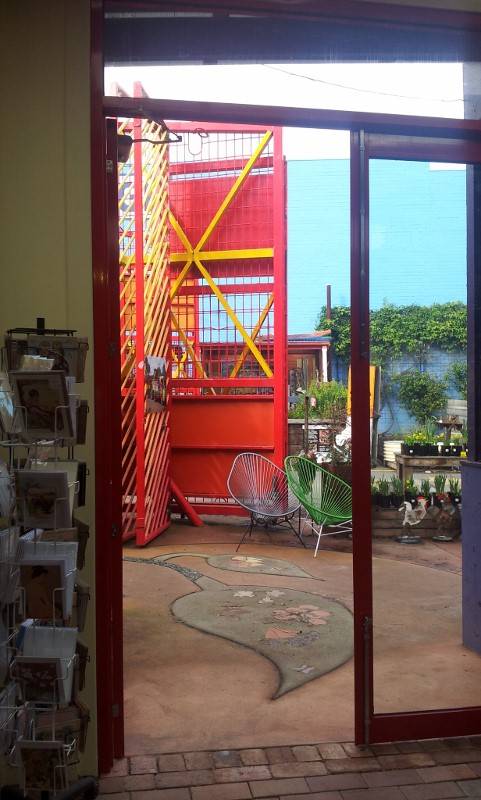 The Gallery becomes the "Garden Gallery"
This space will be our connection to the outside and the garden. It will feature an ongoing display of garden art suitable for outdoors, such as metal and ceramic sculpture and mosaics.
Work  started on this space at the start of June 2015.
It has been painted green and will be the temporary art space until the new gallery is completed.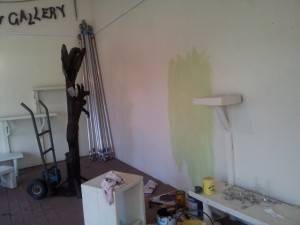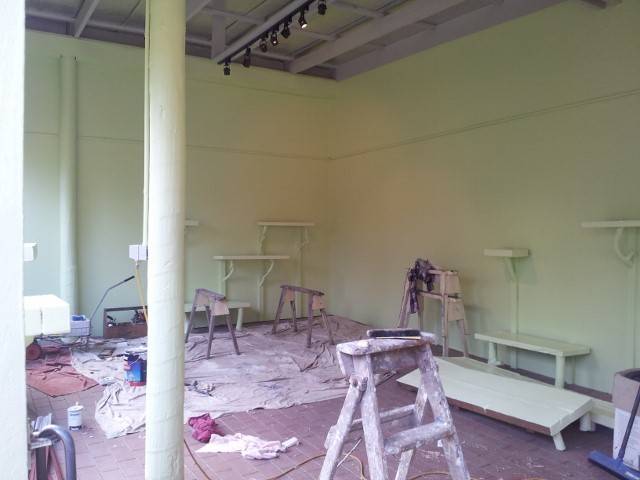 12/6/15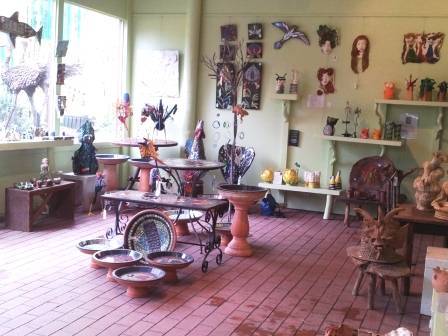 There are plans for the future to develop the garden outside into more of a sculpture garden and have an exit directly out to a viewing platform.
Clerestory windows
The new clerestory windows, designed by Jon Drews add light and a sense of space to the Bulleen Art & Garden shop area.