For the past few years Raine has been exhibiting her work in the Bolin Bolin gallery gallery, sometimes as part of the Box Hill Clayworkers, and in the Bulleen Art & Garden shop.
Raine works both with clay sculpture,  pottery, or basket weaving, often combing the  media. Her work is bright varied and original.
"RAINE EDWARDS,  POTTER, SCULPTOR, basketmaker
I specialize in limited edition sculpture, Pottery and Clay Masks. My vessels have women either sculptured or painted on them.I love bright colours and my women have bright clothing, hair and jewellery. I create one-off pieces because I like to make a form that appeals to me at the time of making it; this could be influenced by something I have seen, a girl walking down the street, my own experience as a dancer, a photograph in a magazine, or just my imagination.
I work with a variety of clays and finish with multiple firings of oxide washes, underglazes, dry glazes and acrylics. I have had a love affair with dry glazes over textured surfaces ever since I started studying pottery, but Due to the nature of the glaze on my dry glaze vessels, they are not suitable to hold liquid or food, but these glazes are very beautiful to look at.
I have a Diploma of Arts (ceramics) and am a member of the Box Hill Clayworkers and The Valley Potters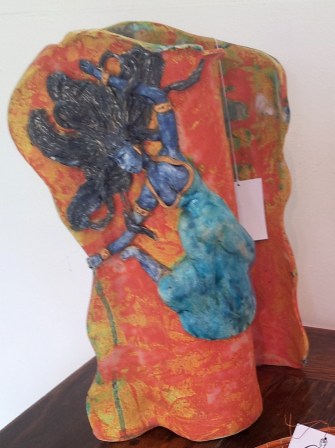 I am also a tutor at the Box Hill Community Arts Centre
My work is available at  Bulleen Art & Garden,The Studio @ Flinders, White Hill Gallery, Box Hill Community Arts Centre and also my home studio.
Since 1994 I have shown my work widely at exhibitions in and around Melbourne
AWARDS
Acquisition Award        Valley Potters Annual Exhibition 2005
Judges Choice                  OLSH Annual Art Show 2006
Excellence in Sculpture   Frankston Art Show 2007
Merit Award                  Valley Potters Annual Exhibition 2007″