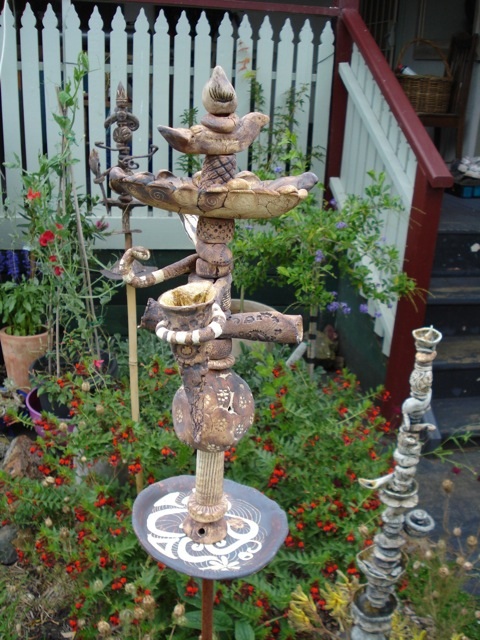 with Avis Gardner
Avis has become interested in making  garden totems, which have been widely exhibited recently. More about Avis.
…The "Totem" itself as homage to ancestral descent…whether real or myth… lends itself perfectly to various subject matter. It's composition also gives  the opportunity to add or remove pieces at different stages……often changing from my original concept and showing new scenes. It can be assembled in many ways.
Weekends 10am to 4pm
Make your own ceramic sculpture with lovely paper clay. Suitable for beginners or the more experienced. Learn effective techniques to decorate by impressing, painting and scraffito. Avis is a professional ceramicist from the UK with over twenty years experience whose practice includes Sculpture and Jewellery.
Your sculptures can be used to attract butterflies, moths and ants with sweet mixtures. No matter how small your outdoor space, even a balcony is enough.
Cost $110 …Includes Clay and steel rod. All tools/moulds etc provided.  Extra charge for firing if requuired($15 per person).