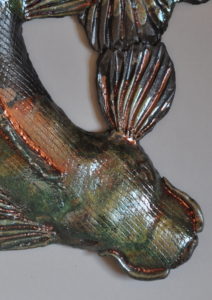 An Exhibition of Ceramic Sculpture by
Heather Wilson                                 
16 August to 22 September 2019
Exhibition Opening: 3-5 pm Saturday 17th August
Heather is a talented and experienced ceramic sculptor who makes a wide variety of animals in clay –  dragons, fish, birds, cats, butterfly pots and lizards. They will all feature in this exhibition. Art for your garden or inside.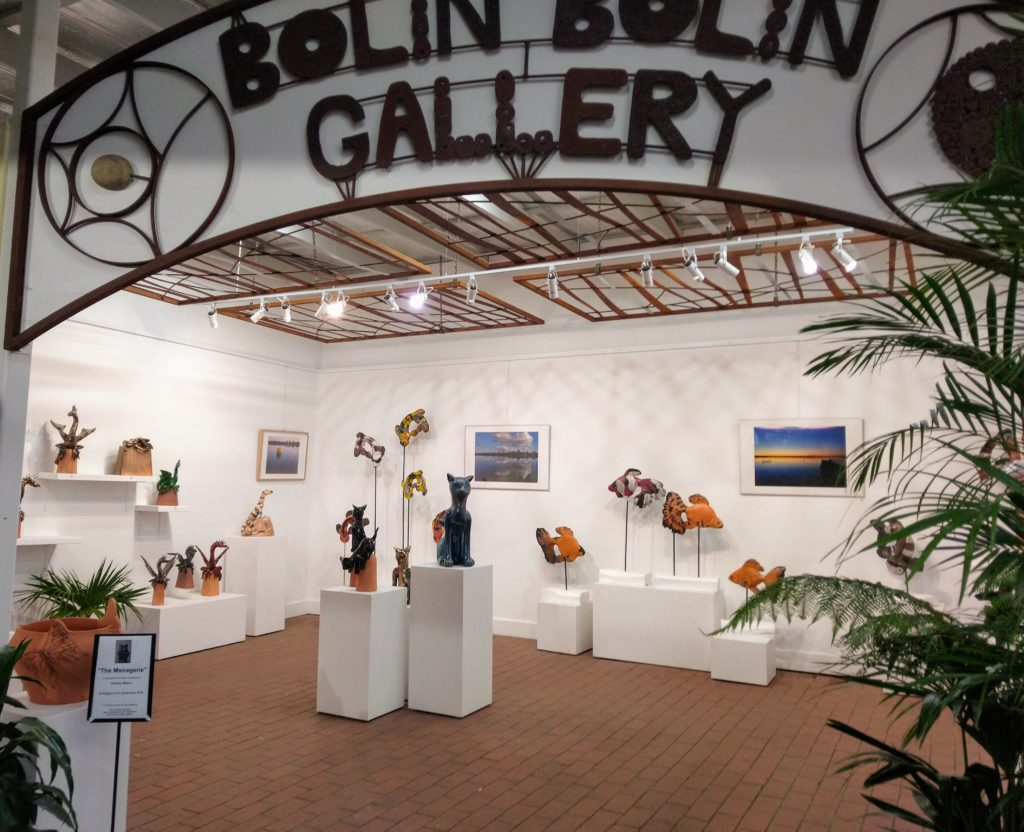 From Heather: "Since the early 80's I have exhibited regularly in Melbourne.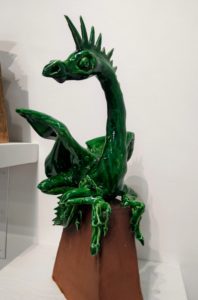 Animals have always fascinated me and have been a part of my work for the last 35 years. Whether appearing as dragons, skeletons, exotic birds or fish, most of my images have a basis in nature. Sometimes it is just a characteristic or a quirky gesture that will inspire a piece, sometimes a photograph or a drawing done at the zoo, aquarium or museum.
Dragons have always given me the freedom to explore an emotion or attitude without the restrictions of a form being right, no one can tell you what a dragon should be like as they are an imaginary beast.
Most of my work is hand built from earthenware or porcelain. Each of them is unique and they may be similar but no two are ever the same. My vessels are coil built and the dragons and birds are constructed on their bases. The pieces are fired to 1080 C in a gas kiln.
The large pots are designed for balconies and to hold plants. The butterfly images are drawn on the outside and coloured with oxides. Some are glazed on the inside so a potted plant can be placed in them and easily removed.
The fish are all Raku and fired to 1000 C then glaze fired at a lower temperature in a rubbish bin kiln. The colours are less predictable but give the variations I think you would see in a fish's fins. These pieces are designed so that the fish can swim through the plants in the garden. They are slid onto metal stakes so that they can be pushed into the ground. Some of them also have holes so that they can be hung on the wall.
This exhibition revisits other birds and more cats and the first of an Australiana series with the lizard which will a theme for my new work. I love taking photographs and am happy to be sharing some of the images I have taken with you in this exhibition. More copies of the photographs can be ordered so please see the desk if one you like is already sold."
We have had a number of exhibitions of Heather's work in 2015 and 2012 and often feature it in the Garden Gallery. You can find out more about Heather at http://gallery.baag.com.au/?p=282, and about her previous exhibitions at Bulleen Art & Garden at http://gallery.baag.com.au/?p=2651 and http://gallery.baag.com.au/?p=1
Bolin Bolin Gallery at Bulleen Art  & Garden
6 Manningham Rd W., Bulleen. 88503030.
www.gallery.baag.com.au