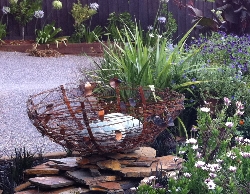 Jenny Steiner graduated in Interior Design at RMIT. She became involved in graphics and followed a career in Market Communications in the Computer industry for 9 years. In 1988 she established and ran her own graphic design studio with work focusing on the corporate market.

She worked as a muralist for both the private and public sectors for four years and has recently completed a post graduate course in International Public Art at RMIT. Currently her main focus is in the area of Public Art with over 20 works in Australia and overseas including murals, cenotaphs,sculpture and memorials. She uses a variety of media including paint, mosaic, metal and glass.
She runs workshops where her love of a variety of media and materials come to play. In her capacity as 'artist in residence' the projects are long lasting works that 'tell a story' while standing the test of time. The 'narrative' is extremely important in Jenny's work.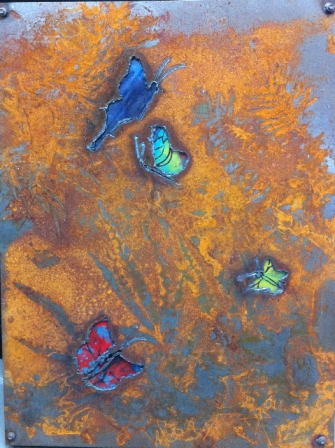 Recent works are:
· 'Pride and Passion' – A metal sculpture for the Narre Warrren North Reserve. 2.7m x 5.5m long.
· 'In Memories We Live' – A memorial for the Children's Cemetery 5m x 5mx 4.8m high. Springvale Botanical Cemetery – A carousel (rotunda) in Stainless Steel, Gold Zinc Plated Brass, Kiln Formed Glass, Bronze and Formed Concrete.
· 'In Search of Peace and Harmony' – sculpture in metal 1m x 6m entry foyer of the new Clayton Community Centre
· 'The Good Shepherd' and 'The Jewelled Cross' – 2 mosaic and brass panels 1.6m x 2.1m installed in the Chapel of the Risen Christ Keilor Mausoleum, Keilor Cemetery.
· "Stand Up – Speak Out" – Theo Sidiropoulos Memorial (4m x 4m speakers mound) Abbotsford.
· 'At the going down of the Sun' – Memorial Wall (Stainless Steel) Northcote RSL
· 'The Spirit to Win' – Mural (130sq m Acrylic on board ) Essendon Football Club Players' Gym 'Reflections of Service' – Cenotaph (Stainless steel and glass 4m high) Springvale RSL
She has undertaken many more private commissions for paintings, drawings, murals, sculpture, glasswork and garden art.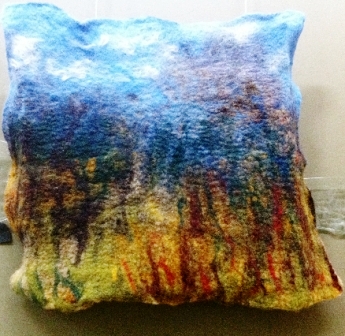 Prizes
ASV MIFGS 2009 – Highly commended sculpture prize 2009)
Hawthorn Artists Society
20thAnnual Art Exhibition – 1999, 2000, 2001. (Awarded Highly Commended Portraiture Prize 2000)
City of Melville Art Awards – 2000 (Awarded drawing prize.)
Home Show – 2001, 2002, 2003 ('Highly Commended 2002')



Artist Statement
I have always been interested in a multitude of media, materials and techniques and in my current work I can't help but be influenced by the disciplines executed by the artists I collaborate with on public art commissions. This inspiration then transfers into my personal studio work creating works in a variety of media, often crossing borders.
My work tends to develop from an inspiration or an idea with an underlying theme or narrative – it says something, though not always the same thing to everyone.
Recently I have moved back into the Blackburn North area and 'Woodland' has been inspired by my rediscovery of the Koonung Creek area – the trees, plants, birds and the creek itself.