'IDEAS OLD AND NEW'
An exhibition of new Ceramic sculptures by Heather Wilson
Fri 30 October to Sun 29 November 2015
Exhibition Opening Thursday 29th october 6-8pm
Bolin Bolin Gallery
at Bulleen Art  & Garden
6 Manningham Rd W., Bulleen. 88503030.
ARTIST STATEMENT

"All of my work is hand built and explores animal forms in various ways. Animals have always fascinated me and have been a part of my work for the last 30 years. Whether appearing as dragons or exotic birds, most of my images have a basis in nature. Sometimes it is just a characteristic or a quirky gesture that will inspire a piece, sometimes a photograph or a drawing done at the zoo or museum.
My last exhibition  "New Directions" at Bulleen Art and Garden in 2012 http://gallery.baag.com.au/?p=1 began the work I am currently developing, using Raku firing to decorate fish sculptures that are designed for garden installations. The work I am doing pushes technical boundaries through the size of the pieces and the exploration of body stains with naked raku. I am creating schools of fish that swim through plants supported on steel poles.
My work is hand built and fired to earthenware temperatures in a gas kiln or in a Raku bin kiln. Naked Raku has no glaze surface as the glaze is used as a mask to prevent smoke reaching the clay surface and is prevented from sticking by a layer of slip. Pieces are removed from a hot kiln and placed in a bin of paper which burns creating the smoke that turns all exposed surfaces black. As the piece is cooled rapidly the mask peels off leaving the clay naked below and the smoke pattern embedded in the surface. The pieces are then treated with a water proofing paint used for sealing ponds."
You can see more about Heather http://gallery.baag.com.au/?p=282
Images from the Exhibition
There are new fish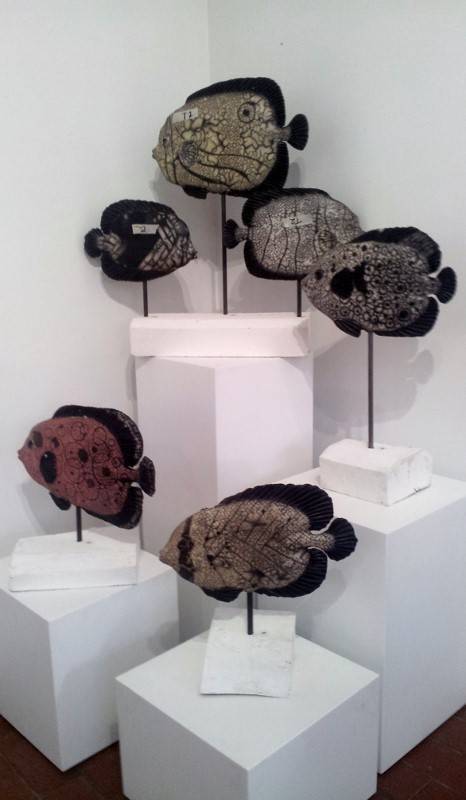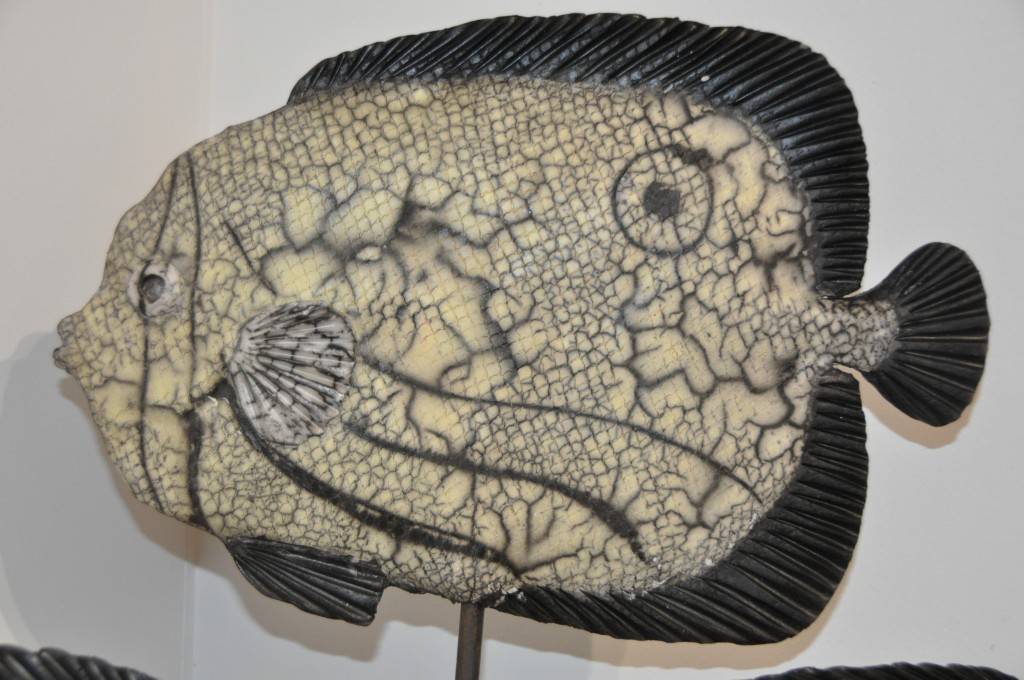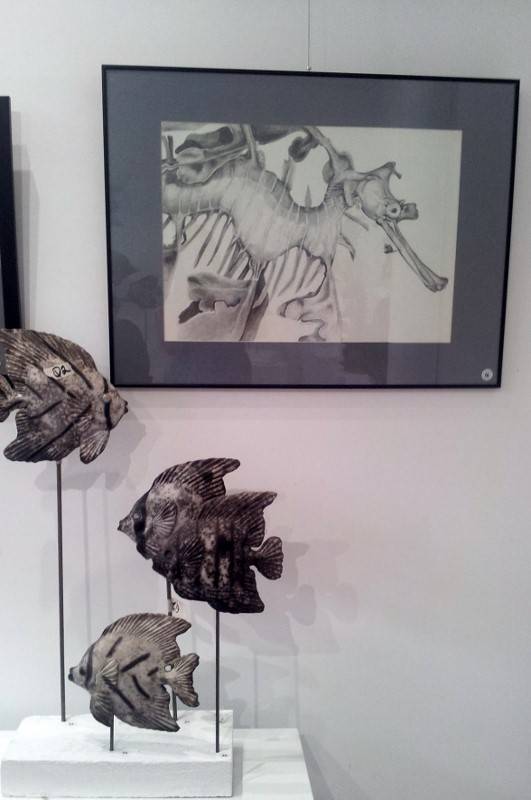 We have more of Heather's ever popular dragons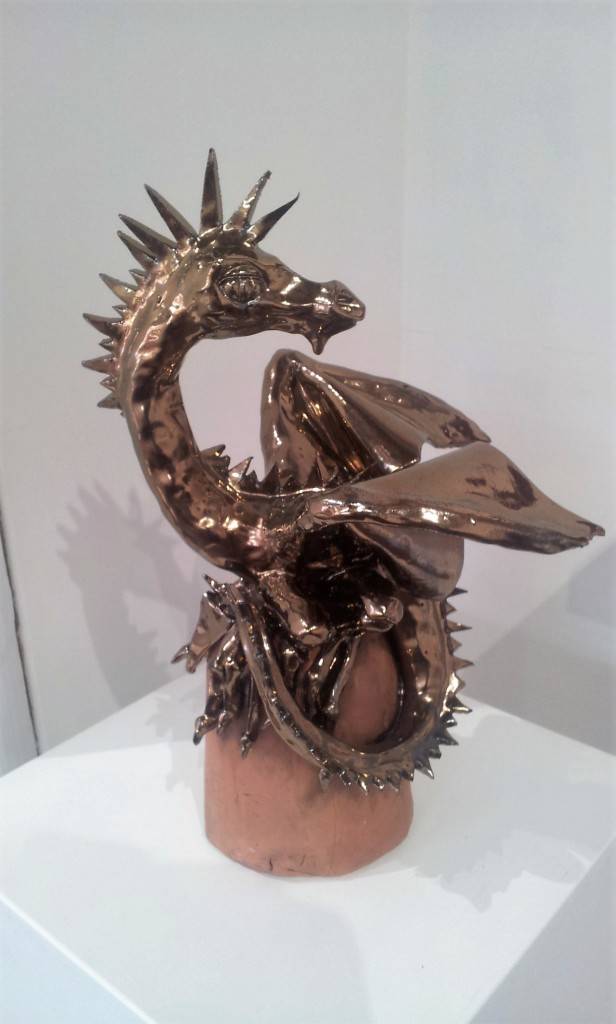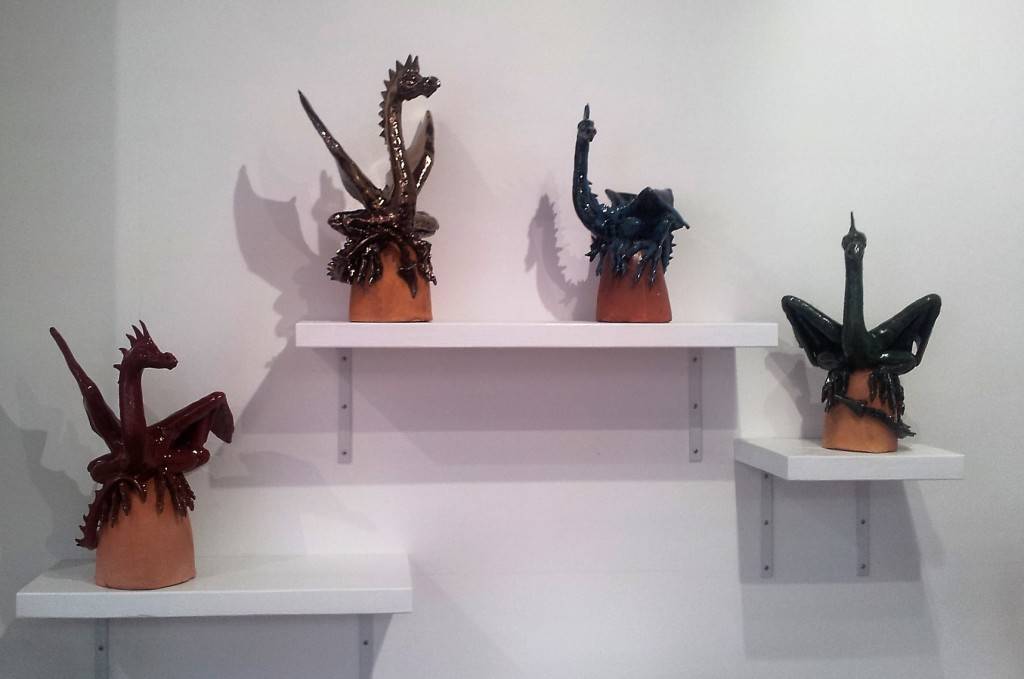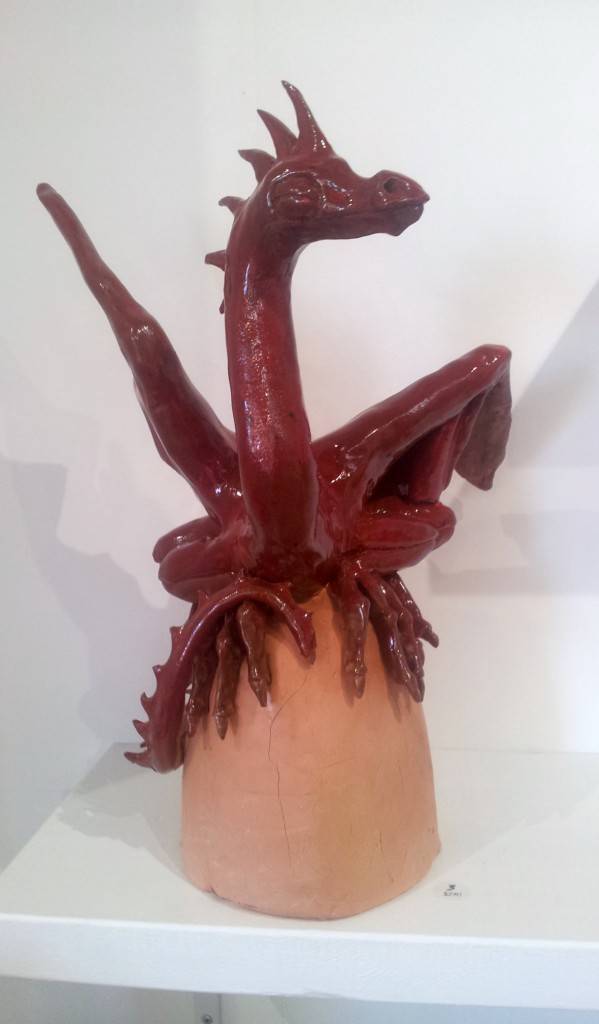 And We have some new owls

And cats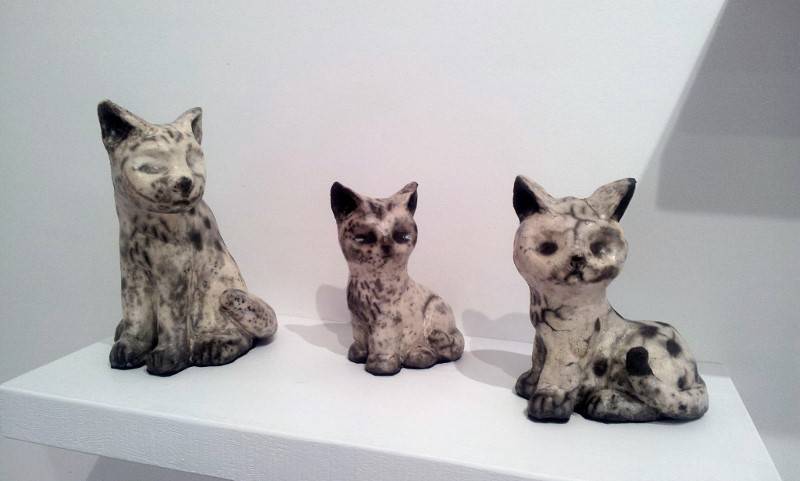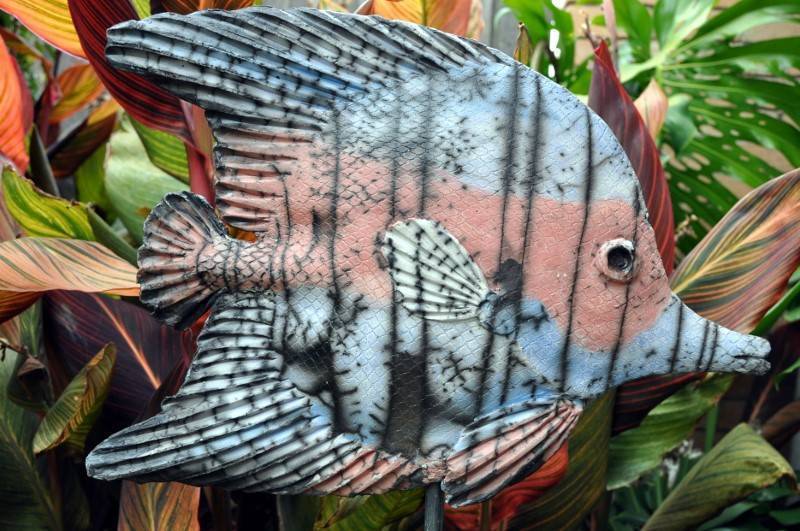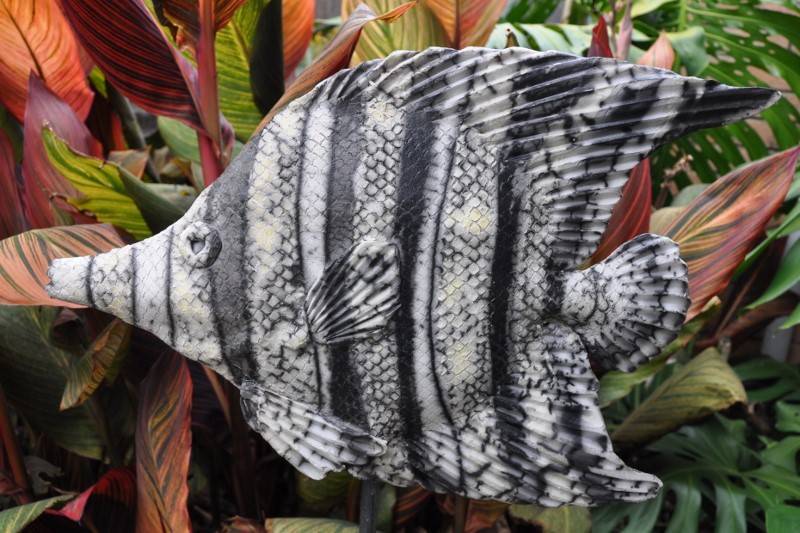 Heather Wilson
Qualifications: Bachelor of Education Art and Craft majoring in ceramics at Melbourne State College 1982.
Currently teaching part time at Reservoir High School
Exhibitions: 10 Solo Exhibitions, 5 Two Man Exhibitions and 18 Group Exhibitions.
Including:
'Winged Wonders': One man show: The Artists Garden.
'Creatures a la Jardin' Two Person show: Bulleen Art and Garden
'Statements in Sculpture' Group Show: Skepsi Gallery
'Injubins' One Man Show: Northcote Pottery Gallery
2009                'Fibre and Clay' Two Person show: Bulleen Art and Garden.
2012                 'New Directions' Two Person Show: Bulleen Art and Garden
Collections: Walker Ceramic collection and the Jan Feder Collection.
Save