Al Fresco
An exhibition of Ceramics
Hills Ceramic Artists present a celebration of the outdoors September 25th – October  24th
Julie Ayton, Babette Bruders, Amanda Christians, Glenn England, Lee Goller, Rosie Hughes, Lynne Lindsay,Sharon Twining, Jenny Rowe, Juliet Widdows
September 25th – October  24th 2015

Join us for the opening on Thursday October 1st 6pm-8pm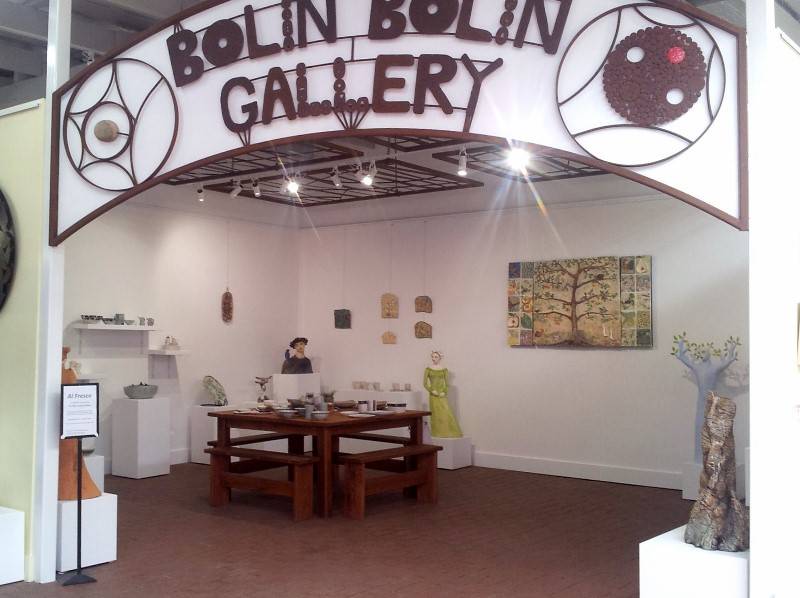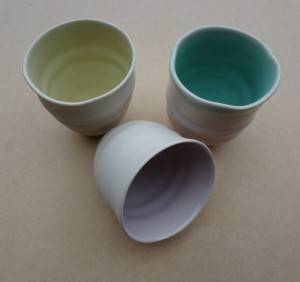 The 'Al Fresco' exhibition is aiming to explore the delights of the outdoors, the enjoyment of food while in the company of friends and family and the visual pleasure of the surroundings: plants, animals and insects.
The medium of ceramics allows for the exploration of these various forms in both 2 and 3 dimensions.
Central to the Exhibition is a collaborative work in the form of a large mural with side tiles detailing different aspects of nature. The main panel is representing the 'tree of life' with a range of images and textures that aim to capture spring, fruitfulness and the joy of life…
This will be accompanied by a number of smaller wall plaques based around a tree.
Our 'Al Fresco' table brings together the work of each artist and references our connection as a group through our love of working in clay, our enjoyment of food, 'sharing' ideas, techniques and expertise and of working together.
Each artist will also exhibit a group of work expressing their concept of outdoor living.
We are enjoying putting this exhibition together and having fun with our collaborative elements.
We hope you will join us at the opening.
The group was formed in December 2013. It consists of ten artists; Glenn England, Jenny Rowe, Julie Ayton, Rosie Hughes, Amanda Christians, Sharon Twining, Juliet Widdows, Babette Bruders, Lee Goller and Lynne Lindsay. We live and work in the Dandenong Ranges. We have all undertaken professional art studies and are producing a broad range of ceramic work. We all have our studios in and around the Dandenong Ranges and came together largely through the Dandenong Ranges Open Studio program. The group is a mix of established ceramic artists/potters and emerging artists and was formed for mutual support, friendship and to exhibit together.
This year (2014) we had a very well received exhibition at Burrinja called High Tea – the Deconstructed Tea Party. The exhibition had an interactive aspect to it. Along with the exhibition we ran a series of workshops, invited public comment/ input through a message board, created a collaborative sculpture called Alice and set up a tea table with a place setting created by each artist. The exhibition was largely functional and conceptual ceramics and sculpture along with works on paper by Lee Goller and paintings by Sharon Twining."
The Exhibition
'Tapestry of Spring '  Collaborative mural
The Group Table Setting
"Rites of Spring " by Jenny Rowe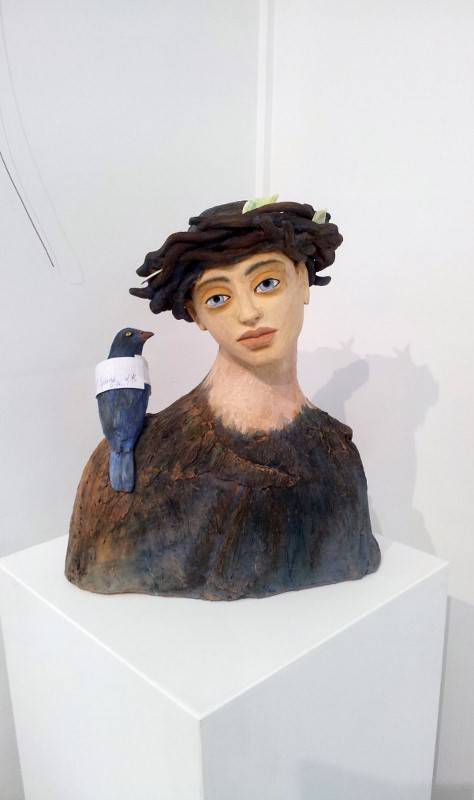 "Adjustment of the season"        by Jenny Rowe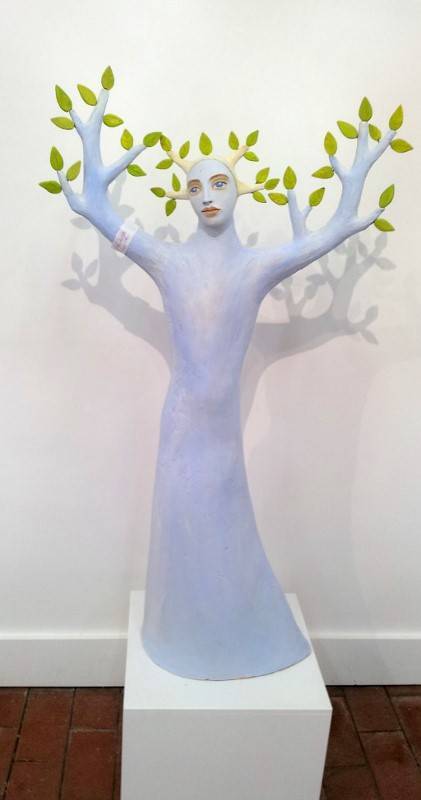 Insect Havens by Glenn England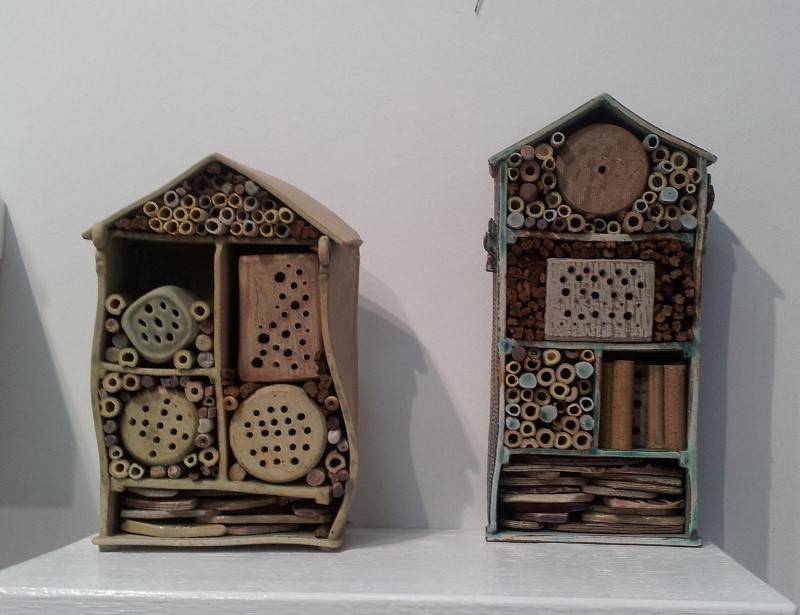 "Alice and the Hare" by Lee Goller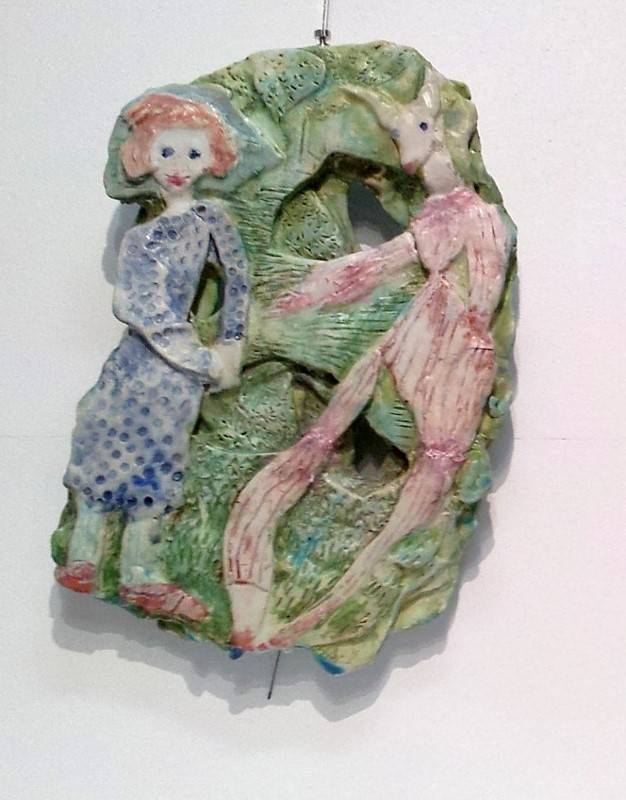 Work by Lee Goller, Babette Bruder, Lee Goller
'Treading Earth Vessels' by Amand Christians
Wall Pieces by Lynne Lindsay

Table Pedestal by Sharon Twining

Tableware by Rosie Hughes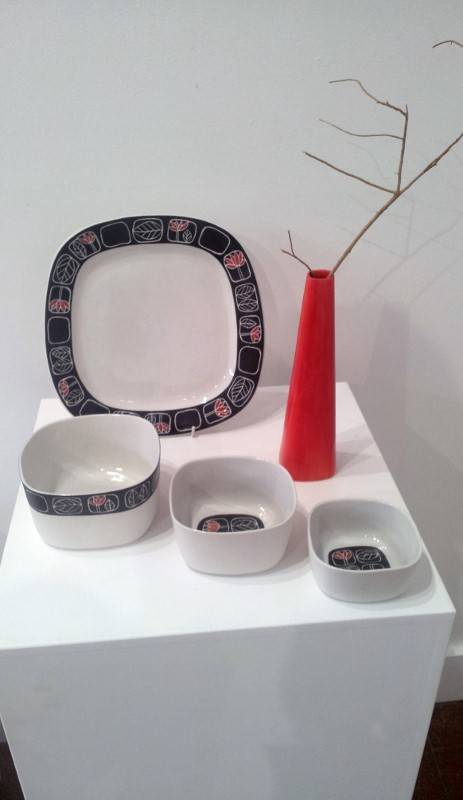 "Wattlebird"by Juliet Widdows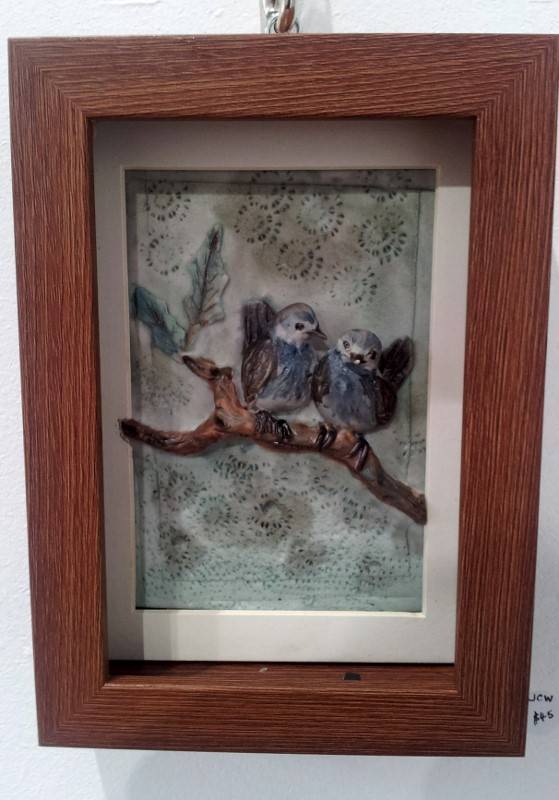 Spoons by Lynne Lindsay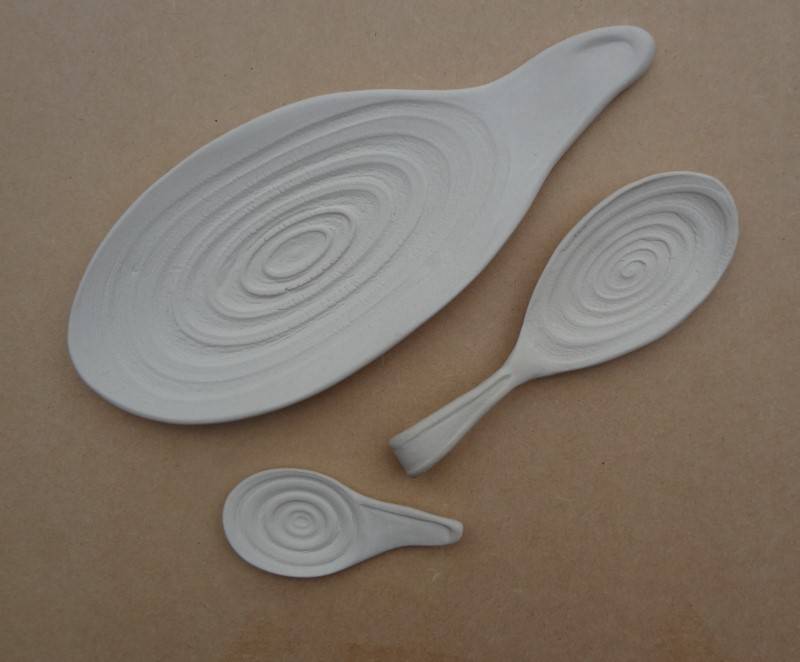 Pears & bowls by Amanda Christians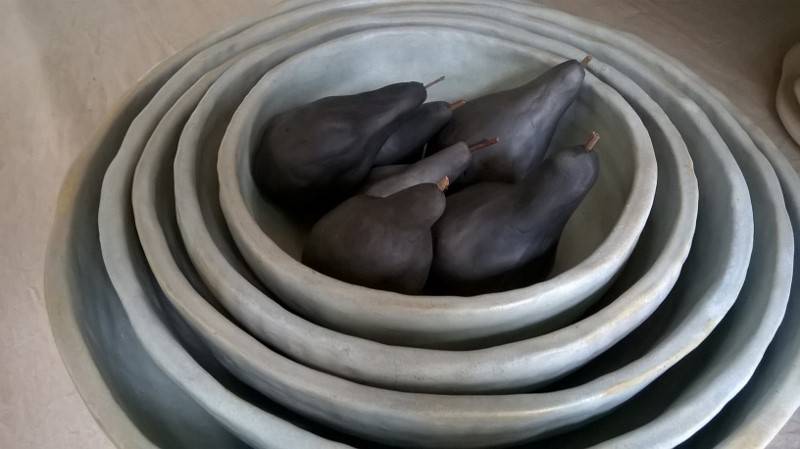 Babette Bruders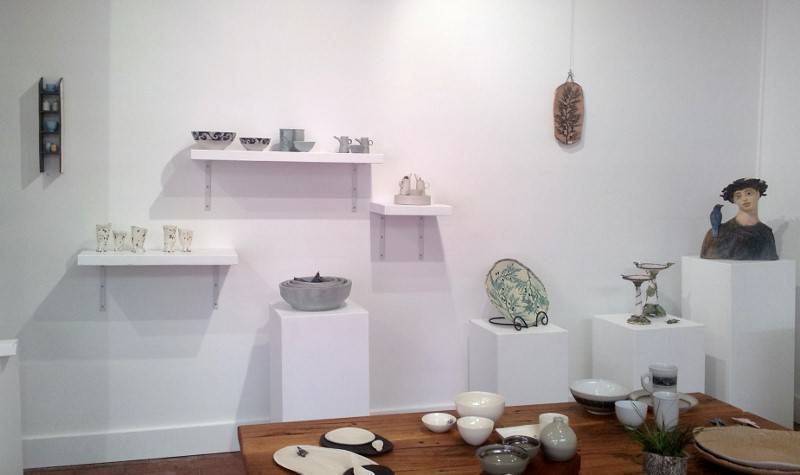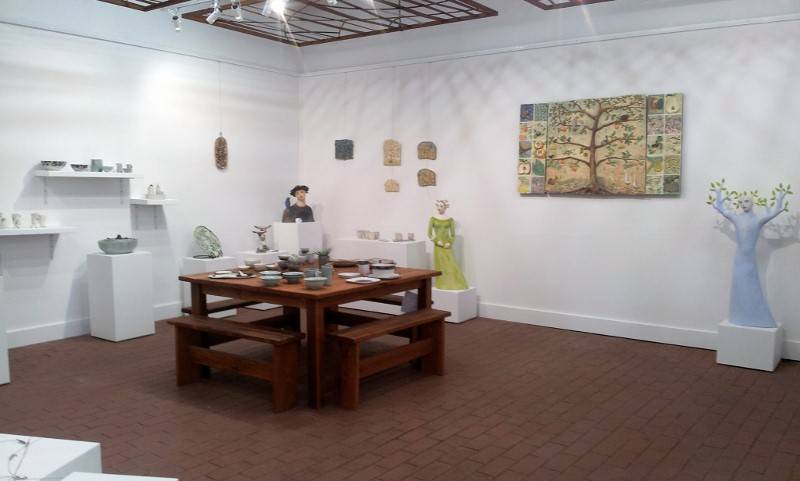 Making the Group Mural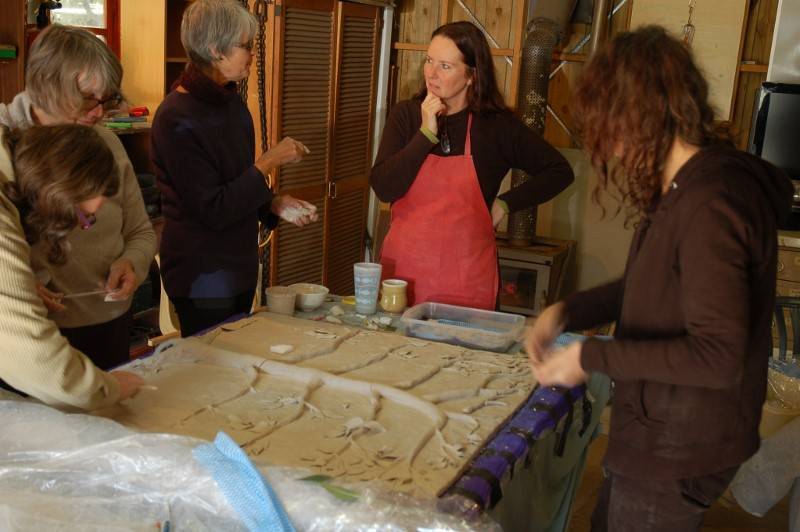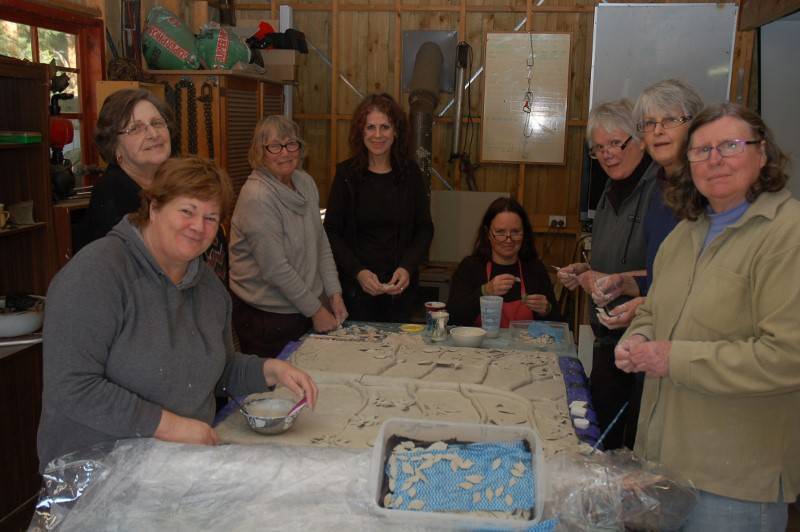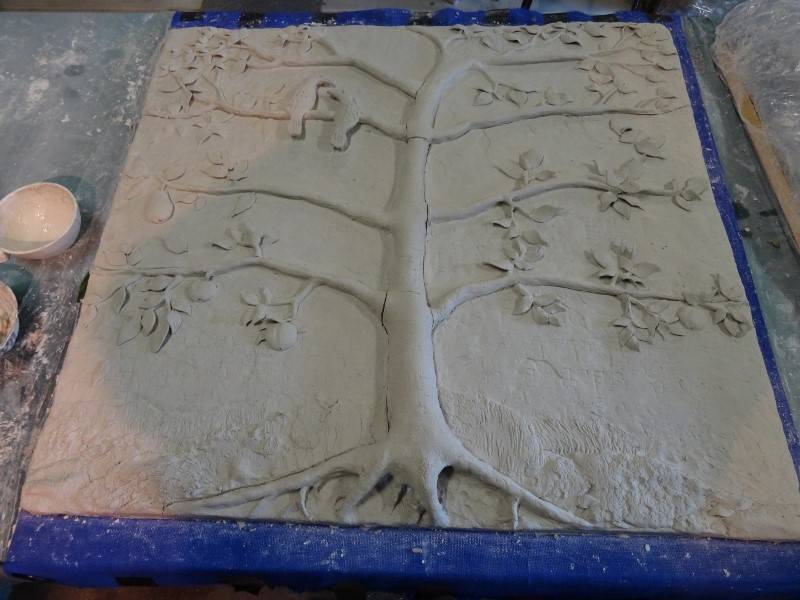 Work to be included in Exhibition