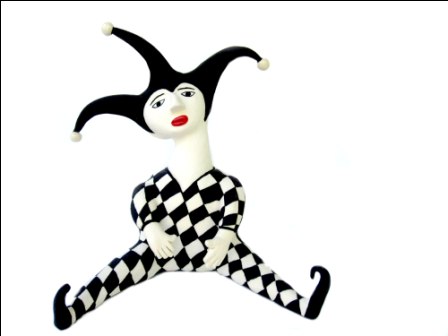 I would describe my work as fun with a sense of the ridiculous. My background is in clay, having completed a diploma of art, majoring in ceramics at Outer Eastern College. If I produce functional work it is highly decorative but I concentrate mostly on producing series of one off individual sculptural pieces. While I work predominantly in clay I do dabble in other mediums and it is not uncommon for there to be some cross over from time to time.

I am the sort of person that collects things, holding onto them because one day they'll come in handy. More and more those things are actually incorporated into my art work, old tuna cans, teacups, plastic toys and various found objects. I love a bit of recycling.
Having lived overseas for a good portion of last year, my travels assured me of lots of visual input. Working towards this exhibition has been a great opportunity to get my hands dirty again and deal with the creative output.
Making art keeps me sane, well my version of it anyway. I love the way an idea unfolds. How a cat with a house and teapot on its back makes sense. I love that seeing something can spark an idea and the act of making art can create and mutate more ideas.
In the work I have created for my Domestic Bliss show at Bolin Bolin Gallery at Bulleen Art and Garden (Feb/March 2008) the house and common domestic items, including pets, features heavily. These themes continue in my current work
Who knows what'll happen next.