For more information about her work, and a lot more images go to www.meredithplain.baag.com.au. or Facebook  http://www.facebook.com/pages/Meredith-Plain-Ceramic-Sculpture/166082786786943.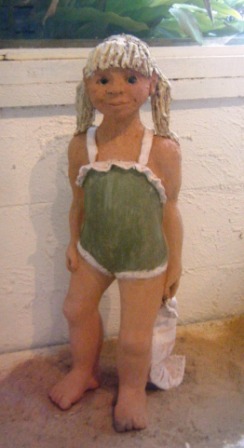 At Bulleen Art & Garden Meredith Plain
Takes part in many of the  Exhibitions in the Bolin Bolin Gallery, for example Lazy Days Exhibitions.
Sells work regularly in the shop and nursery at Bulleen Art & Garden and on the on-line gallery.
Takes ceramic scupture workshops.
Organises the Bolin Bolin gallery exhibitions.
For any queries about Meredith's work contact meredith@baag.com.au.
"I sculpt in clay because I find the creative possibilities of clay fascinating and compulsive. Creatures with vitality, energy and personality can emerge from a lump of dirt. Ceramic sculpture can explore many diverse forms. It is a means of expression and communication of ideas and, importantly, humour. My frogs, dragons, people and other creatures seem to develop a life and energy of their own.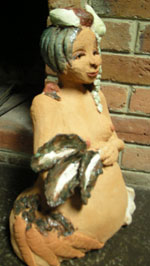 I first discovered the fascination of creating creatures from clay in 1989, after a career as a medical research scientist and whi1le at home with young children. What started out as a hobby took over more and more of my time, and our house. Ceramic sculpture is now my career.
Since then, I have taken part in exhibitions at Bulleen Art & Garden, Eltham Wiregrass Gallery, Meat market Craft Centre, Northcote Pottery Gallery etc and sold work through Potter's Cottage and Fitzroy Nursery. I have been involved in setting up and running the Gallery and exhibition program at Bulleen Art & Garden. My work is makes up the mural at the front of Bulleen Art & Garden
My work ranges in size from only a few centimetres to works taller than myself, and covers a wide range of subjects. It is all suitable for use inside and outside."